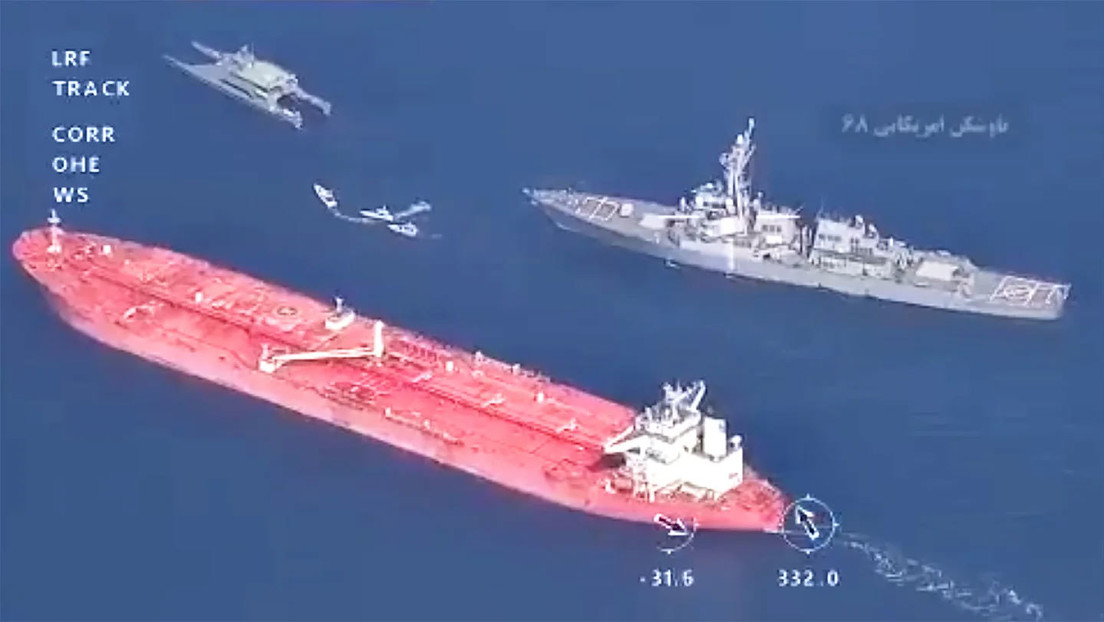 Published:
4 November 2021 13:16 GMT

Earlier, Tehran announced that IRGC forces did not allow the US military to "capture a giant Iranian oil tanker" during the incident.
The Iranian quasi-government agency Force News released several reports of an incident between the Iranian and US navies in the Gulf of Oman this Wednesday.
These images were captured from the sky and from Iranian ships and the oil tanker Sodis, following which tensions grew.
Videos show how the boats of Iran's Islamic Revolutionary Guard (IRGC) navy surround the tanker. An Iranian Bell 412 helicopter then moves a group of soldiers to its base.
For the U.S. side, the images show two Orly Burke-class destroyers and a U.S. Coast Guard Sentinel-class quick response ship. According to Driver. Also, an MH-60R Seahawk helicopter appears, probably with two Hellfire AGM-114 missiles.
Ships from both countries were approaching at a very short distance during the incident. In addition, IRGC troops were seen pointing machine guns at U.S. ships, although there was no indication that any shootings had taken place.
Incident in the Gulf of Oman
Previously, Tehran Advertising During the incident, IRGC forces did not allow the US military to "capture a giant Iranian oil tanker."
According to Press TV, during the "oil theft" attempt, US sailors confiscated an Iranian tanker and transferred its cargo to another tanker "before leading to an unknown location". However, members of the IRGC navy launched an operation and "regained control of the ship and sent it back to Iranian waters".
During a press conference on Wednesday, US State Department spokesman John Kirby said: Rejection Iranian officials have accused the U.S. navy of trying to seize an oil tanker in the Gulf of Oman. Referring to the matter, the official stressed that Iran's allegations were "completely and utterly false." "This is a false claim," Kirby pointed out.
Iranian state television released footage of Iranian ships chasing at least two US-flagged warships.
"Wannabe web geek. Alcohol expert. Certified introvert. Zombie evangelist. Twitter trailblazer. Communicator. Incurable tv scholar."