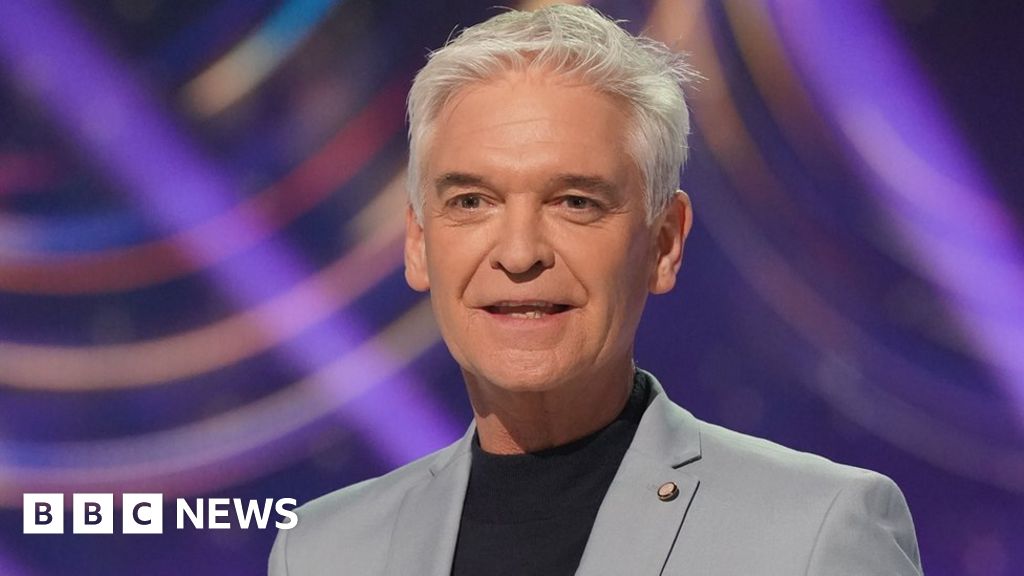 Written by Stephen Macintosh
Entertainment reporter
TV presenter Philip Schofield has admitted he lied to colleagues and the media about an affair he had with a young male employee of ITV.
The former This Morning presenter said his relationship with the man, who was not named by the BBC, was "unwise but not illegal".
He has quit ITV with immediate effect and will not be presenting the British Soap Awards next month.
Schofield also will not be fronting a new primetime series which ITV said last week they were developing with him.
Scofield said his departure from the show was unrelated to the case.
The TV presenter was still married to his wife Stephanie Lowe at the time of the relationship. They divorced in 2020, after Scofield came out as gay.
Scofield said he was "very, very sorry" for being unfaithful to his wife, and for lying to colleagues, agents, employers, the media, and the public.
The TV presenter said he would reflect on his "very poor judgment of both being involved in the relationship and then lying about it".
His announcement follows significant online speculation over several months about Scofield's personal relationships.
The talent agency YMU also severed ties with Schofield after he made public about the affair.
In a statement to the BBC, the TV presenter said: "It is with great regret that, after 35 years of faultless management by YMU, I have agreed to step down from their representation with immediate effect."
Statement by Philip Schofield in full
"I am making this statement via the Daily Mail to which I have already personally apologized for misleading, through a lawyer who I also misled, about a story they wanted to write about me a few days ago.
"The first thing I want to say is: I am terribly sorry that I lied to them, and to many others about the relationship I had with someone at work this morning. I had an on-going relationship with a much younger co-worker this morning.
Contrary to speculation, while I met the man as a teenager and was asked to help him get into television, after he started working on the show it became more than friendship. That relationship was ill-advised, but not illegal. It's over now.
"When I chose to move out, I did it entirely for my own welfare. No one ever forced me out. Neither I nor anyone else, as far as I know, ever made an injunction, excellent or otherwise, regarding my relationship with this fellow, that was not moved." or dismissed by me or because of me.
"In an effort to protect my former colleague, I haven't been honest about the relationship. But my recent, unrelated, exit from this morning has fueled speculation and raised questions that have affected him, so for his sake it's important for me to be honest now.
"I am painfully aware that I have lied to my employers at ITV, to my colleagues and friends, to my agents, to the media and by extension to the public and, most of all, to my family. I am very, very sorry, as I am for being unfaithful to my wife.
"I have therefore decided to forego the British Soap Awards, my last public commitment, and resign from ITV with immediate effect to express my immense gratitude to them for all the wonderful opportunities they have given me.
"I would consider my very poor judgment getting involved in the relationship and then lying about it.
To protect their privacy, I am not naming this person and it is my hope that they and their family can now move on with their lives free from further intrusion, and that this statement will enable them to do so.
"I am now asking the media to respect their privacy. They did nothing wrong, and I am asking for their privacy to be respected."
Schofield's last appearance was on the morning of Friday 19 May. He announced his departure from the ITV daytime show this weekend.
Schofield has presented This Morning Show since 2002, and Willoughby joined him as co-presenter in 2009.
Willoughby is currently on leave but is set to return to the show on Monday 5th June.
"Hardcore twitter fanatic. Proud coffee fanatic. Social media aficionado. Devoted tv enthusiast. Alcohol scholar. Bacon specialist. Avid troublemaker."