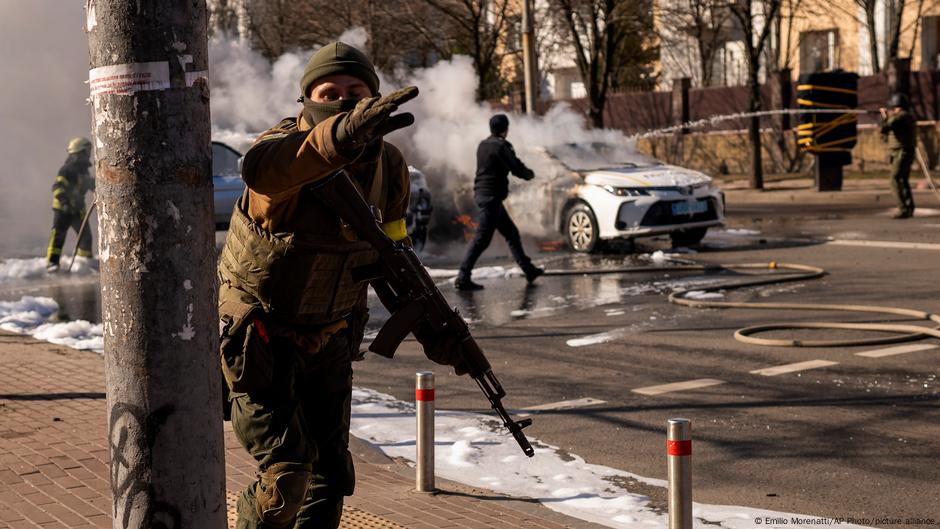 All information on Central European time (CET).
12:10 | Poland have refused to clash with Russia in the qualifying round for the World Cup in Qatar
Cezary Kulesza, president of the Polish Football Association (PZPN), announced this Saturday that Poland will not play a play-off tie with Russia in the 2022 Qatar World Cup due to the Russian invasion of Ukraine.
"This is the only right decision. We are in talks with the Swedish and Czech federations to present a common position for FIFA," Kulesa wrote on Twitter.
12:04 | Zhelensky says he still controls the Ukrainian capital, Kiev
Ukrainian President Volodimir Zelenski confirmed on Saturday, the third day of the invasion of his country, that he had "disrupted" Russia's plan, in which he called on Vladimir Putin to pressure the Russians to end the war.
He said that we stood firm and successfully repulsed the attacks of the enemy. However, "fighting continues in many cities and regions of the country, but our army controls the main cities around Kiev and the capital," he said. The president urged Germany and Hungary to support a proposal to exclude Russia from the Swift International Monetary Fund.
11:56 | The Netherlands is to send 200 anti-aircraft missiles to Ukraine
In response to a request from Kiev to supply military supplies to the Netherlands, the Dutch government announced on Saturday that it would send 200 Stinger surface-to-air missiles to Ukraine "as soon as possible." Defense against troops from Russia.
Stinger missiles are 1.5 meters long and weigh more than 16 kilograms, but can reach speeds of up to 2,400 kilometers per hour and can be used at targets within a radius of 5 kilometers.
11:44 | Poland warns that 100,000 Ukrainians have entered its territory since the start of the Russian offensive
Polish Deputy Interior Minister Pavel Sefernecker announced on Saturday that about 100,000 Ukrainians had entered Poland since the start of the Russian offensive.
"More than 100,000 people have crossed the border from Ukraine into Poland since the start of hostilities in Ukraine," Schafnernaker told reporters at the Medica border post in southeastern Poland.
10:52 | 200 Ukrainians killed in Russian attack
The Ukrainian health minister pointed out that 198 civilians, including three children, had been killed in Russian attacks this Saturday. About 1,000 people have been injured since the start of the Russian invasion on Thursday.
"Unfortunately, according to operational data, 198 people were killed by the invaders, including three children, and 1,115 people were injured, including 33 children," Minister Victor Liashko said on Facebook.
10:37 | Russian regulator instructs media to avoid the word 'invasion'
Russia's communications watchdog Roskomnadzor on Saturday ordered the country's media to delete any reference to civilians killed in the conflict in Ukraine, and vetoed the words "invasion," "attack" and "declaration of war."
"We insist that only official Russian sources have current and credible information," Roskomnadzor said in a statement, describing Moscow as a "special operation" aimed at "maintaining peace" in Ukraine.
08:24 | Russia has bombed more than 800 military targets in Ukraine
The military agency said in its morning war report that Russian armed forces had destroyed 821 Ukrainian military targets with cruise missiles in the early hours of Saturday.
Destroyed targets include "14 military airports, 19 checkpoints and communications, 24 S-300 and Osa anti-aircraft missile systems and 48 radar stations". Russia shot down seven Ukrainian planes, seven helicopters and nine drones and destroyed eight warships.
08:15 | Zhelensky says the Allies are sending weapons to Ukraine
Ukrainian President Volodymyr Zhelensky said on Saturday that his "allies" were sending weapons to help Ukraine fight the Russian invasion.
"The weapons and equipment of our allies are going to Ukraine. The anti-war alliance is working!" He wrote on his Twitter account.
07:45 | Russia uses naval missiles against Ukrainian military infrastructure
The Russian Defense Ministry said Saturday that the Russian military had attacked Ukraine's military infrastructure with naval and airship missiles, on the third day of the invasion of its neighbors.
"In the evening, the Armed Forces of the Russian Federation launched a long-range and precision-guided missile attack on Ukraine's military infrastructure using naval and airship missiles," Igor Konashenkov, a spokesman for the ministry, said in a televised statement.
07:28 | Zhelensky: "We will defend our country"
Two days after the start of the invasion, Zhelensky this Saturday appealed to his citizens to defend the capital, Kiev, where the army is fighting with Russian forces, and not to lay down arms.
"I am here. We are not going to lay down our arms, we are going to defend our country," President Zhelensky announced in a video posted on Facebook after the Russian attacks on the capital.
07:13 | Facebook has banned Russian state media from making money online
In response to the invasion of Ukraine, Facebook restricted the activity of the Russian state media this Friday.
"We ban the Russian state media from advertising or monetizing our platform anywhere in the world," Nathaniel Kleicher, director of security policy for the social network, said on Twitter.
07:07 | The Ukrainian military says it has a Russian offensive in Kiev
Two days after the invasion of President Vladimir Putin, Ukrainian troops continue to defend the streets of Kiev this Saturday against the advance of Russian troops trying to control the Ukrainian capital.
"In Kiev, violent fighting continues. The Ukrainian army has Russian saboteurs," Ukraine's special telecommunications service said in a telegram.
06:43 | The United States provides military assistance to Ukraine
The White House announced on Friday that US President Joe Biden has approved up to $ 350 million in new military aid to Russia's full occupation of Ukraine.
The announcement came after the US president telephoned Ukrainian Prime Minister Volodymyr Zhelensky on Friday to discuss issues related to military aid and sanctions.
05:31 | Australia bans Putin from invading Ukraine
The Australian government on Saturday announced a new round of sanctions against Russian President Vladimir Putin over his decision to invade Ukraine.
"Allowing leaders is an exceptional move, but the situation is exceptional," said Foreign Minister Maris Payne. This is the third round of sanctions imposed by Australia against Russian politicians, the military and oligarchy, as well as various banks and investment sanctions in the Donetsk and Luhansk regions.
05:06 | The United States provides security for Zhelensky
The US government is ready to help Ukrainian President Volodymyr Zhelensky escape from Kiev to avoid being captured or killed by Russian forces, but the president has so far refused to leave the capital, newspaper sources said on Friday. Washington Post.
"According to our information, I am the enemy's first target. My family is second. They want to destroy Ukraine politically by destroying the head of state," Zhelensky said in a speech to the nation.
afp / reuters / efe / the washington post / dpa / ap / rr
"Wannabe web geek. Alcohol expert. Certified introvert. Zombie evangelist. Twitter trailblazer. Communicator. Incurable tv scholar."