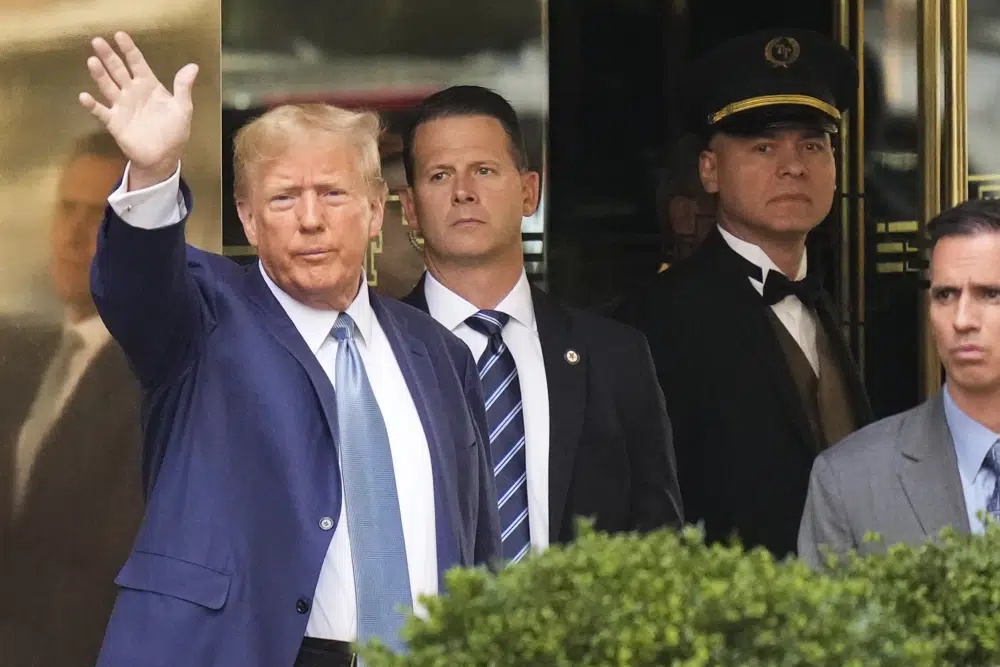 This time he answered questions and did not adhere to the Fifth Amendment.
Former President Donald Trump answered questions for nearly seven hours Thursday during his second statement in a legal dispute with the New York attorney general over his company's business practices, reversing his earlier decision to invoke his privacy protections. Quietly.
Republicans met throughout the day with lawyers for Attorney General Letitia James, who sued Trump last year.
In her lawsuit, she alleges that Trump and his family misled banks and business partners by providing false information about his net worth and the value of properties such as hotels and golf courses.
Shortly after Trump entered the Manhattan skyscraper that houses James' offices, his lawyer, Alina Hubba, said he was "not only willing, but eager to testify."
"He remains steadfast in his position that he has nothing to hide and looks forward to educating the attorney general about the enormous success of his multibillion-dollar company," Hubba said in a statement.
The case is unrelated to the criminal charges brought against Trump by the Manhattan district attorney that led to his historic trial last week, a first for a former US president.
In a social media post Thursday morning, Trump called the case "just as ridiculous as the other election interference cases that have been brought against me."
He raised his fist as he left his Trump Tower apartment in the morning and arrived in a motorcade to the attorney general's office around 9:40 a.m. Both parties adjourned for lunch. Trump left the motorcade shortly before 6:15 p.m. and did not stop to speak to reporters.
James declined to answer a question about Trump's statement at a news conference on an unrelated matter on Wednesday.
Trump met with James' lawyers earlier on August 10, but refused to answer all but a few procedural questions and invoked his Fifth Amendment rights more than 400 times.
At the time, James had yet to file his lawsuit, and it was unclear whether questions about how Trump would value his company would become the basis of a criminal case.
"Anybody in my position who doesn't take the Fifth Amendment is an idiot, an absolute idiot," he said in the statement, which was recorded on video and later released publicly. Trump predicted that a "rogue" prosecutor would try to build a criminal case based on his answers if he did.
"The slightest misstatement or response, by accident, by mistake, like it was a beautiful sunny day, when in fact it was a little overcast, will be received by law enforcement on a scale that is rare in this country, because that's what I've experienced," he said.
Since then, circumstances have changed. The criminal charges, filed by the Manhattan district attorney, center on how the company made internal payments to an attorney named Michael Cohen.
The case filed by James is set to go to trial in October. Video recordings of Trump's comments could be played during the trial if the case is not settled.
Thursday's statement was released privately.
Get information instantly on your cell phone. Join the Diario Primicia WhatsApp group through the following link: https://chat.whatsapp.com/Fr9gVHN4A436nOIw6sepgk
We are also @DiarioPrimicia on Telegram, join here: https://t.me/diarioprimicia
"Wannabe web geek. Alcohol expert. Certified introvert. Zombie evangelist. Twitter trailblazer. Communicator. Incurable tv scholar."