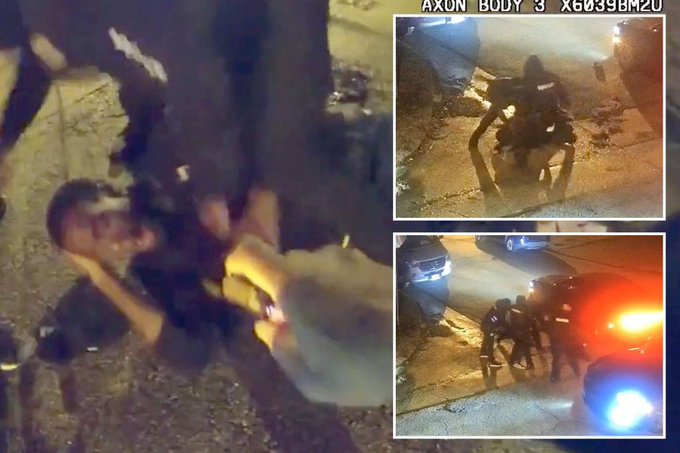 Family members described the incident as horrifying.
The city of Memphis on Friday released police body camera footage and surveillance video showing the traffic stop and violent police confrontation that led to the death of Dyer Nichols, a 29-year-old black man.
Nichols died of his injuries three days after the incident. 5 former police officers have been charged with various charges.
CNN previously obtained clippings of police radio communications prior to Nichols' arrest. Parts of the recording are inaudible, but some conversations between an agent and an operator can be heard.
A police officer is heard saying, "We've got a black man running," then instructs him to "run the car registration tag and find out what the address is," followed by Nichols looking distressed.
It is not known where this audio took place and which officer is speaking.
Dyer Nichols' death: "You're going to see acts of inhumanity," police chief says in Memphis arrest video
What do we know about the incident?
According to a police report, Nichols was pulled over by Memphis officers on Jan. 7 for reckless driving. That day, at approximately 8:30 a.m. local time, agents stopped a vehicle.
"A confrontation ensued between officers and the driver of the vehicle, later identified as Nichols, who fled on foot, according to Memphis police. Officers pulled him over and "another confrontation ensued" that led to Nichols' arrest, according to police.
An ambulance was called to the scene of the arrest after Nicholas complained of difficulty breathing, and he was taken to a nearby hospital in critical condition, according to police.
He was involved in a confrontation with Memphis police officers and suffered "profuse bleeding from the blunt force trauma," according to preliminary results of an autopsy commissioned by attorneys for his family.
Nichols' stepfather Rodney Wells, who watched the footage Monday with his family, lawyers and police officers, said it was clear Nichols ran "frightened for his life." "He didn't run because he was trying to get rid of any drugs, any guns, anything like that. He ran in fear of his life. And watching the video, you know why he was in fear of his life."
Rowan Wells, Nicholas' mother, called for supporters to protest peacefully after watching the video at a vigil on Thursday. "When that record comes out tomorrow, it's going to be terrible," Wells said. "I haven't seen it, but from what I've heard, it's going to be terrible."
Attorneys for Nichols' family also watched the video of the arrest on Monday, describing it as "horrifying." Nichols was shocked, pepper-sprayed and physically restrained, family attorney Ben Crump said.
He compared it to the beating Rodney King received from the Los Angeles police.
Crump described the video as "appalling", "regrettable" and "terrifying". RowVaughn Wells, Nicholas' mother, asked, "What have I done?" At the end of the recording, the prosecutor said, Nichols could be heard calling his mother three times.
In that regard, Crump said the video "evokes strong, very strong emotions," and repeated calls by the Nichols family and police for any demonstrations or protests over Nichols' death to be peaceful.
The full 6 minutes of Memphis police body footage shows the officer repeatedly punching, kicking and pepper-spraying an unarmed Dyer Nichols. #JusticeForTyrNichols #MemphisPolice pic.twitter.com/KCnTNxhiY2

—t 🇮🇹 (@diamondswet999) January 28, 2023
Get information instantly on your cell phone. Join the Diario Primicia WhatsApp group through the following link: https://chat.whatsapp.com/LGrm4avkkIt9vm7NJUXF1U
We are also @DiarioPrimicia on Telegram, join here:https://t.me/diarioprimicia
"Wannabe web geek. Alcohol expert. Certified introvert. Zombie evangelist. Twitter trailblazer. Communicator. Incurable tv scholar."