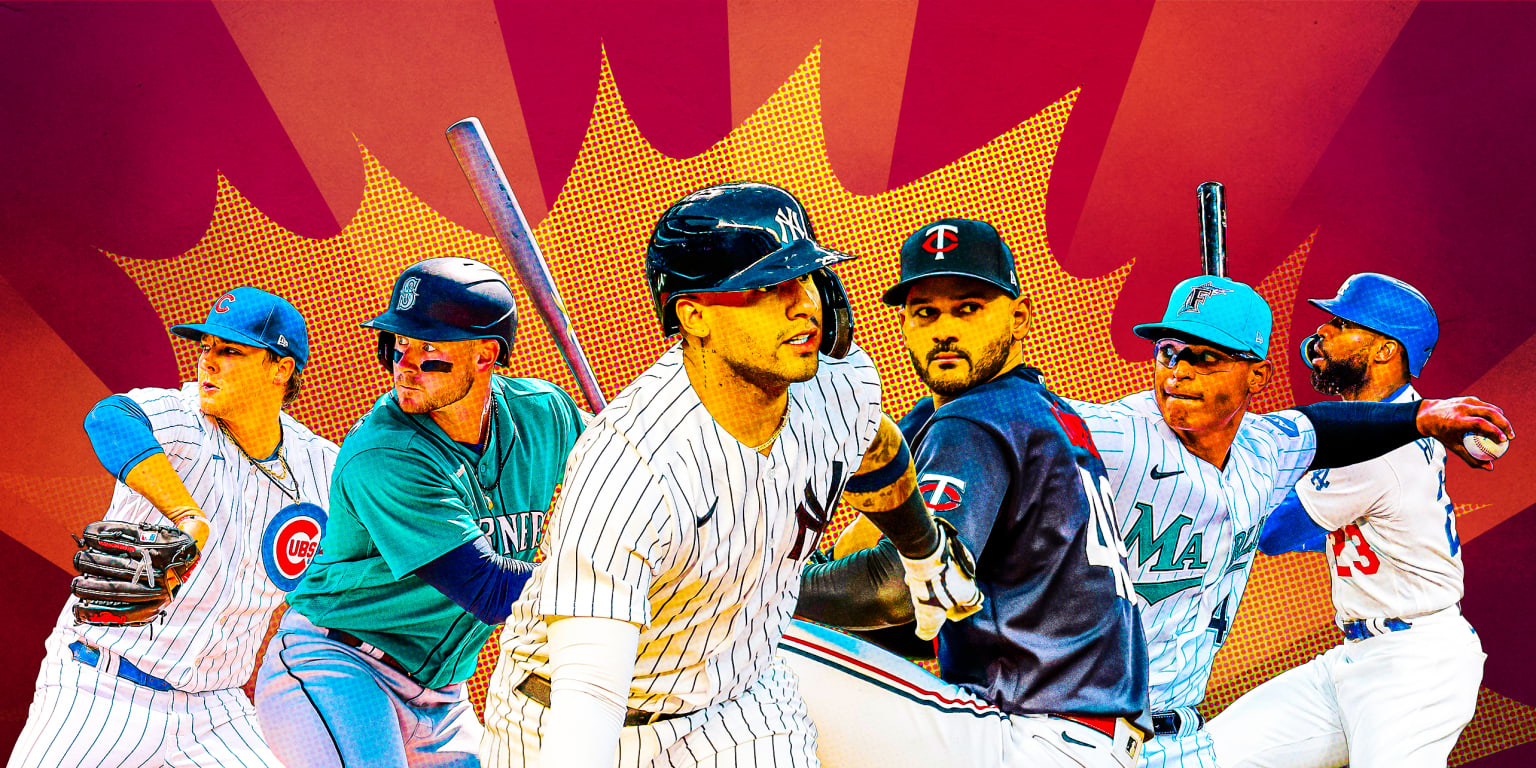 With that in mind, let's take a look at each team's biggest surprise over the first two weeks or so. Maybe it's a positive, maybe it's not, but sure, it's not what anyone expected.
Blue Jays: Matt Chapman is Superman
Chapman finished in the top 10 in MVP voting twice, and was always under-appreciated, particularly defensively. He also had a bit of a bounce season at the plate in 2022 after stepping back in 2021. But not even Chapman's family imagined he'd hit . 489 and lead the Majors in total bases after the first two weeks of the season. On a team stacked with batters, he was the best.
Orioles: Cedric Mullins' slow start
There is no room for error in the East. The Orioles are a game above . 500 and yet they're already six games out of first and fourth. Off. Adley Rutschman was amazing, and we all love fun celebrations, but Mullins—one of the few players on this team to make it to the All-Star Game—was horrible at first, hitting 184. He's still finding ways to help, though, according to Both defensively and with two homers and six stolen bases.
Rays: The Lowe Bros
Everything about the Rays was great, but the real jaw-droppers were Brandon Lowe and Josh Lowe. (Who are not only brothers but don't pronounce their last names the same way.) Both are among the league leaders in nearly every offensive category, even if they give announcers headaches every game.
Red Sox: A struggling veteran pitcher
In 2017, Corey Kluber and Chris Sale finished 1-2 in AL Cy Young Award voting. In 2023, they both affected as starters for the Red Sox. Through the first five games after Kluber's game with the Rays on Thursday, they were a combined 1-4 with an ERA well over 9.00. (I apologize to Red Sox fans that this is no longer Adam Duvall, as it was before a broken wrist interrupted his blazing start.)
Yankees: Glaber's back
You guys may not believe this, but there was a legitimate time when I wondered if Gleyber Torres would be an annual MVP nominee. There have been some struggles over the past few years, but Torres is now the best hitter on a star-stacked team, getting on base more than half the time. This, uh, will work.
Guardians: Josh Bell's Blackout
The Guardians have received a lot of well-deserved praise for signing Bale to bring some much needed strength to their offense. He was amazing for the Nets before Juan Soto was traded last year. But he was tough after the trade, and that continued in Cleveland, where Bell hit . 109 with no homers through 12 games. Looks like this team still needs as much energy as it did last year.
The Royal Family: Aroldis Chapman looks just like his old self
Chapman's market had, for several reasons, been poor in the off-season, and I wondered if Kansas City would be his last stop. But while he didn't throw (quite) as hard as he used to, he's bounced back from the 2022 debacle and is grappling like he did a while ago. Chapman hasn't given up a single run in five appearances and is hitting nearly two batters per inning. It would certainly change a lot of potential trade deadline discussions if Chapman were to still file like this.
Tigers: Aqil Badu on base
Last year was a complete nightmare for the Tigers, and the scary thing about the beginning of this year is that it could be worse. Nothing is going well for this team at the moment – please try to stay away from Javier Paez – so let's try to find something positive. Well, how about this one: After big trouble in 2022, Akil Badu, a truly likable player and great baseball story, was called up last weekend and through his first four games posted 375 OBP. That's a good number! Let's try to focus on that.
Twins: Seriously, how about this spin?
There are plenty of players to credit for the Twins' stellar start on the mound, which has seen them boast the second-best ERA in the game. And we don't mean to exclude the bulls, which was cool. But the rotation of Pablo Lopez, Sonny Gray, Joe Ryan, Quinta Maeda and Tyler Mahley was… perhaps the sport's most impressive yet?
White Sox: Spinning falters
The one thing White Sox fans haven't had to worry about in the past is Lance Lynn. He's the guy who shows up and gives you a head start, or better, every five days. It's all for him. Well, maybe they should start worrying. He has a 7.31 ERA, while Michael Kubis is at 6.75 and Lucas Giolito is at 6.00. Chicago's offense has been strong, but this team needs more rotation behind Dylan Cease.
Angels: Hunter Renfro Ascends
The Angels are always looking for that third guy to go with their star. They signed Anthony Rendon to be that person. Taylor Ward was that person at times last season. So far this season, it's Hunter Renfro, who actually beats Mike Trout and almost beats Shuhei Ohtani. With Rendon off to another slow start, Renfroe may need to keep going.
Astros: Luis Garcia, not an ace yet
It was thought that the slow-running Garcia might have some adjustments that needed to be made early on, but this was still a pitcher that many believed could be the Astros' Game 1 starter in the postseason. But he gets hit hard early on and, perhaps most troublingly, walks with men. It would certainly be fine, but this division seems more competitive than it has been in a while. Not that much time to find out, Louis.
Athletics: Who is this backup catcher?
You take what you can with the A's, and Carlos Perez, who hasn't played in the Majors since 2018, has eight hits and a homer in 13 batters.
Sailors: Here comes the Kelenic
Oh, my God, what if Jared Kilinick finally became a superstar? His homer at Wrigley Stadium on Wednesday was the headline-grabber, but Kilinick was showcasing everything Mariners fans (and former Mets fans) have been waiting to see the entire season. Sailors cap, if your kylink is this All year long, higher than anyone can imagine.
Rangers: The ace so far is John Gray
Of all the players the Rangers have brought in to support the rotation, Gray, along with Martín Perez (another youngster who was already here), has been the favorite so far. The Rangers will be reeling from an injury to Corey Seager, but the pitching here looks legit.
Brave: Bryce Elder isn't going anywhere
With two weeks left in the season, Elder was sent down to Triple-A Gwinnett. But when Max Fried was injured on opening day, Elder was called in and he did a rather impressive fried impression. The 23-year-old has yet to give up racing in his first two starts.
Marlins: Jesus Lozardo might be consistent
It was impressive what the Marlins were able to do last year with the once highly respected Lozardo the top player traded to Starling Mart in 2021. Lozardo has taken an extra leap this year, amassing three starts High quality and presented better than Sai. Youth Fellow Award Winner Sandy Alcantara.
Mets: David Robertson looks like Edwin Diaz
So far, so good for substitute Diaz, who hasn't given up a run in 6 1/3 innings pitched and made two saves. Robertson has a lot of experience, and it shows so far. It was everything the Mets could have hoped for.
Citizens: Joey Meneses has no niggers
It's really sad that Joey Meneses doesn't have house bugs, right? Unfortunately, the fun of the World Baseball Classic has not carried over.
Phillies: The Struggle of Aaron Nola
Many thought Nola was a undercover candidate for Cy Young this year, but it has yet to come to fruition. His first three starts were a mess, and he's 0-2 with a 7.04 ERA. He still doesn't walk guys – it's just that everyone beats him so hard.
Brewers: Brian Anderson is thriving
Marilyn Forever — or at least she felt that way — had a miserable final season in Miami and started over in Milwaukee. So far, so great: He has three homers and 10 RBIs and is leading the first-place team's offense.
Cardinals: Miles Mikulas isn't thrilled about his extension
The Cardinals granted Mikolas a contract extension just before the start of Opening Day, and he followed that up by being hit hard on each of his first three drives. He has a 10.05 ERA so far, and the Cardinals look desperate for Adam Wainwright to come back and save their rotation.
Cubs: The top of the spin is the pins
The Cubs made the decision to focus on running blocking in the offseason, and it's paying off so far. Justin Steele and Marcus Stroman look like a perfect fit to stand up to this stellar defense, and they've given up three combined runs in 30 innings so far.
Buccaneers: Ke'Bryan Hayes didn't count the bat
I wondered if this would be Hayes' year, but so far, he's hitting . 157 with no homers. He still plays a great third, though!
Reds: TJ Friedl could be a superstar
That voice you heard was all your fellow fantasy catchers rushing to pick the Reds fielder, who hit . 350 and once stole 30 bases in the minors.
D-back: Dre Jameson looks ready
The D-backs prospect both started out and worked, and he did exactly what Arizona wanted all around. Will he be taking Madison Bumgarner's turnover soon?
Dodgers: Choose your own stadium surprise
Trayce Thompson may be hitting four homers. James Ottman may have looked ready from day one. He might be… panting… Jason Hayward is somehow shooting a homer himself. The Dodgers have a system, and it's clearly working. For everyone, it seems.
Giants: Logan Webb's slow start
Webb, in many ways, represents the entire strategy of the Giants: find strong players and make them better, maximizing everything they try to do. Webb has been that guy for the past few years, but so far, he's 0-3 with a 6.35 ERA. Fortunately, the slack was picked up by Anthony Disclavany and Alex Wood, because the Giants are still the giants.
Padres: Is Manny about to go?
Of all the stars on this team, Manny Machado should have been the biggest. He almost won the NL MVP award after all, and locked himself out with the Padres in the offseason for years to come. But he was the most outrageous out of the gate so far, hitting his first home run of the season Thursday and earning a 0.28 OBP.
Rocky: Elias Diaz transformed into Johnny Bench
Díaz hit .228 with a 0.281 OBP last year—not easy to do at Coors Field. He must have been saving it for the year: He has a .419 OBP and is hitting .579.
"Thinker. Wannabe twitter lover. Entrepreneur. Food fan. Total communicator. Coffee specialist. Web evangelist. Travel fanatic. Gamer."