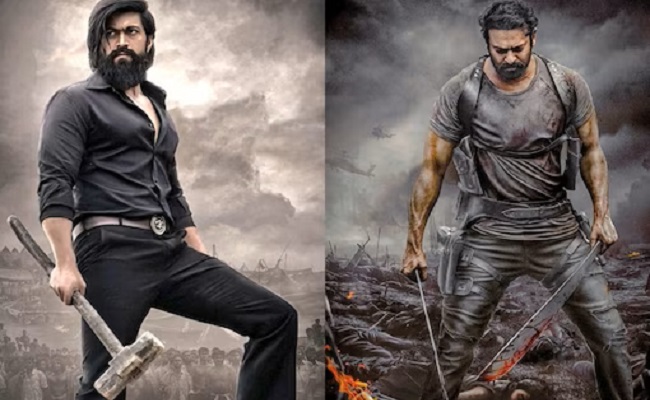 On Thursday morning, the long-awaited teaser for Salaar was finally released, introducing Prabhas in a massive and intense role as the 'most violent' man.
Released at 5:12 a.m., the teaser caused a virtual storm that captivated the internet.
The ardent Prabhas fans are overflowing with excitement to watch their darling star in an action-packed avatar in Salaar Part 1: Stand Up.
Amidst the overwhelmingly positive reception of this Prashanth Neel director's teaser, observant Prabhas fans have noticed subtle details in the new promotional materials.
An eager fan tweeted two screenshots, one from the post-credits scene for KGF: Chapter Two and the other from Salaar's teaser.
Remarkably, the two images bear remarkable resemblance to each other. This revelation sparked speculation that Prashanth Neel's upcoming film might be related to Yash starrer KGF: Chapter 2.
While the true implications of this connection are yet to be revealed, it seems to hint at the possibility of a major crossover between Prabhas and Yash, creating one of the most massive collaborations in South Indian cinema.
Hombale Films' Salar Part 1: CEASEFIRE is set to introduce a star-studded ensemble that includes Prabhas, Prithviraj Sukumaran, Shruti Haasan and Jagapathi Babu.
The highly anticipated film is set to hit theaters on September 28, 2023, in five languages ​​including Telugu, Kannada, Malayalam, Tamil and Hindi.
Picture 1: #KGFChapter2 Post credit scene
Picture 2: #SalaarTeaser

So #KGFxSALAAR Certain #yasboss 𓃵 # Prabhas #prashanthnil 🫡 pic.twitter.com/DqPIIlY42Y

– ᴷᶦᶜᶜʰᵃ ⁴⁶ ₦ 𝖎ʂհ @ ητђ‌ ™ ᵧₐₛₕ ₁₉ (@Nishanthks_54) July 6, 2023
"Hardcore twitter fanatic. Proud coffee fanatic. Social media aficionado. Devoted tv enthusiast. Alcohol scholar. Bacon specialist. Avid troublemaker."