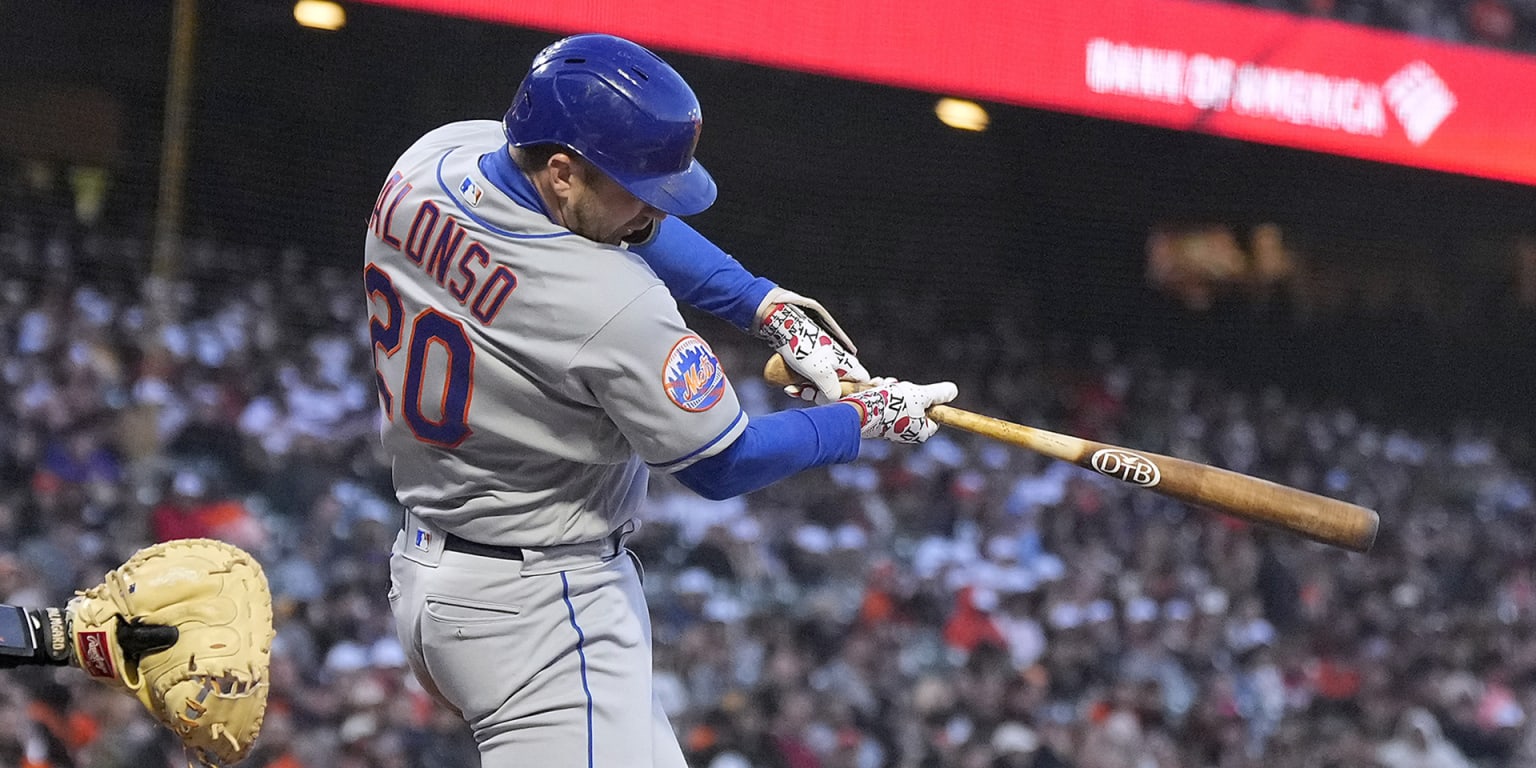 SAN FRANCISCO – Pete Alonso home products come in all shapes and sizes. He is as adept at hitting drive lines to opposite field as he is at hitting moonshots to the upper reaches of outfields, Alonso simply hits a homer. He beats them like everyone else. And he currently beats them more than anyone else.
Alonso's ninth homer of the season on Thursday not only propelled the Mets toward their seventh win in eight games, a 9-4 victory over the Giants at Oracle Park, but he also matched the franchise record for home runs in March and April for a single game. season. Alonso had already owned a share of the brand with nine homeowners during the first month in addition to his rookie year in 2019, joining John Buck, Carlos Delgado, Dave Kingman and Neil Walker.
This time, he still has nine games left in April to set the record for himself.
"You can tell Pete feels good about seeing the ball well," said head coach Buck Showalter. "When he gets something he can handle, he takes a good swing at it."
That's exactly what happened in the fourth inning on Thursday, when Alonso turned on Sean Manaea's sinker as the Giants delivered a belt high on the inside edge of the strike zone. Barely cleared the left fence, the home run was one of Alonso's shorter efforts of the month for the tape measure, landing 366 feet from home. However, they all count the same for Alonso, who moved to the solo possession of fifth on homers for the Mets:
1. Daryl Strawberry, 252
2. David Wright, 242
3. Mike Piazza, 220
4. Howard Johnson, 192
5. Alonso, 155
Alonso also passed two more Mets to game Rusty Staub for the team's 13th all-time RBI list:
10. Keith Hernandez, 468
11. Kevin McReynolds, 456
12. Daniel Murphy, 402
13 t. Stoop, 399
13 t. Alonso, 399
In his fourth major league start, Kodai Senga received a lot of extra run support. Eduardo Escobar also pitched, Jeff McNeil hit a leadoff single while reaching base safely in all five of his games at the plate, and Brandon Nemo collected three more hits to give him eight in two games. But Alonso's homer proved to be the most influential, giving the Mets a lead they would never relinquish.
In some ways, that hot streak is familiar to Alonso, who enjoyed his share of bouts of homer joy during his first four seasons. In other ways this is different for a fast paced player getting to 73 early on. Notably, Alonso entered Thursday's play featuring the finest discipline of his career. He chased only 24.9% of pitches outside the strike zone, compared to his career average of 32%. Even last year, on his 40-homer bashing, Alonso swung out of the zone a career-worst 33.5% of the time.
His hitting coach, Jeremy Barnes, noted this week that "It's just a matter, for him, of understanding what the pitcher is trying to do."
Alonso agreed: "I dictate to Pate." "If the pitcher runs out, great. I tip my hat. But for me, I'm in complete control when I swing the bat and not."
After last season, despite making the National League All-Star team and finishing eighth in MVP voting, Alonso changed his routine in hopes of improving. Most notably, he revamped his conditioning program to lose 10 pounds, while also doubling down on video studies and cage workouts designed to aid his plate discipline.
"I could talk to you for hours about all this stuff, but I think it would be very boring for most people," said Alonso.
Boring or not, it's easy to see early returns for a player who leads the majors in home runs, ranks in the top four in RBIs, scoring percentage and hit runs. At spring training, Alonso discussed the possibility of joining Aaron Judge in the 60-man club, which seems like a pipe dream for anyone — but maybe a little less so now. If Alonso maintains his plate discipline gains, this could be the most sustainable hot streak of his career.
"We fell short last year in the postseason," he said. "I just wanted to do what I could to get better. If I could improve or contribute a little bit more, or develop as a player, I felt like that could help the team. I feel like I took a good deep dive. Spring training was a good place to try these things out, and now we're on our way." ".
"Thinker. Wannabe twitter lover. Entrepreneur. Food fan. Total communicator. Coffee specialist. Web evangelist. Travel fanatic. Gamer."