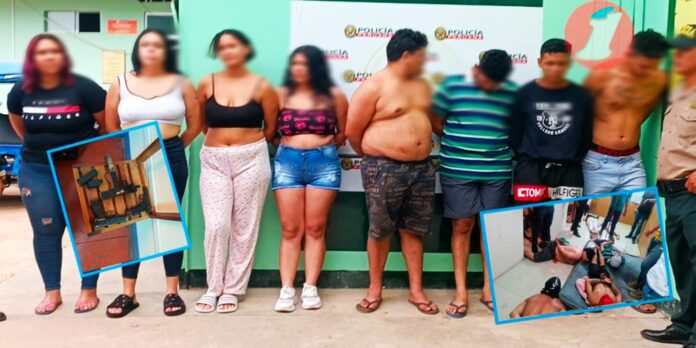 The inmates call themselves "God's Children" and engage in various armed robberies and drug busts.
During two operations carried out in the city of Bucalpa, eight Venezuelans who formed a dangerous criminal gang were eliminated by Peruvian National Police officers.
According to local media reports, agents of the Directorate of Investigation (TRIN) indicated that the detainees were members of the "Aragua Train".
Investigations revealed that the inmates would call themselves "children of God" and engage in various armed robberies, drug trafficking, assaults and extortion.
Accordingly Great information Arrested are Owen Fonseca Diaz (24), Jordan Daniel Espinoza Liendo (24), Yederson Fernandez Diaz Perez (22), Natalia Gonzalez Chirinos (20), Yvelis Eugenia Duarte Bernal (19), Mariani (Antonio Agost), Robinson Delgado Rojas (27). ), Katrina del Valle Coraspe Torres (19).
However, officials pointed out that these names would conflict with immigration because they would have another identity that works in Peru.
During the process, three guns including a mini-UZ and six magazines were recovered. Also 50 different calibers of ammunition, 500 grams of basic cocaine paste and eight high-end mobile phones.
Get instant information on your cell phone. Join the Diario Primicia group on WhatsApp by following Links:https://chat.whatsapp.com/EUWIEdcF1YP9JwwC753Gc7
We are also @DiarioPrimicia on Telegram, join here: https://t.me/diarioprimicia
"Wannabe web geek. Alcohol expert. Certified introvert. Zombie evangelist. Twitter trailblazer. Communicator. Incurable tv scholar."