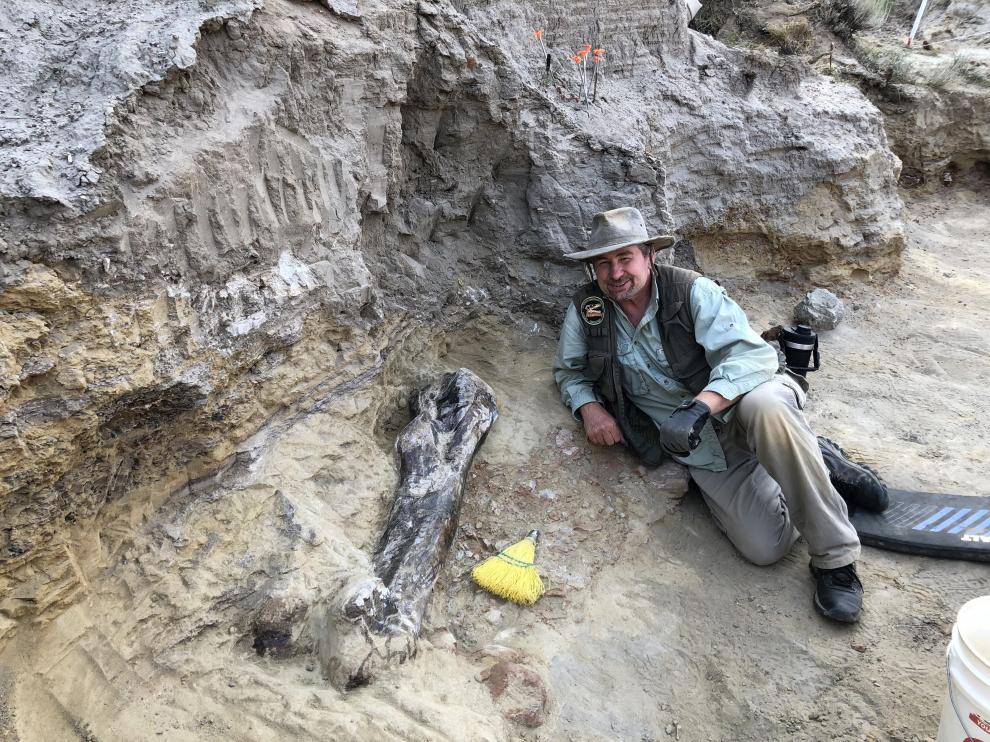 The skeleton was bought for $7.7 million.
An impressive skeleton of a 66-million-year-old Triceratops specimen measuring 8 meters long and 3 meters high, the largest of its kind ever discovered on the planet, will be on display at a Florida museum starting May 26.
The skeleton of the Triceratops, nicknamed "Big John," was discovered in South Dakota and is listed in the Guinness Book of Records as the "largest ever discovered," the Glazer Children's Museum in Tampa, on the West Coast, said on its website. In Florida, the fair will be held.
"Big John" was bought at auction in 2021 by businessman Siddhartha Pakitipati, who paid $7.7 million for the saurian skeleton, which is "5-10% larger than any other triceratops known to date".
"Dinosaurs roaming the earth fascinated me as a child. Now everyone will have a chance to see it in person at this museum and experience what their world was like 66 million years ago," said Pagidipati, founder of brands including Talent.me, Inventcorp and Freedom Health.
The immersive dinosaur exhibit at the Glazer Children's Museum takes visitors back to the Late Cretaceous, with "Big John" tunnels and "transparent domes" at the center of this "innovative display."
"What makes dinosaurs a source of such enduring and universal fascination is their ability to bridge the gap between generations," Sarah Cole, the museum's president and CEO, said in a statement.
"These mythical creatures roamed our planet long ago," Cole said, "so getting up close to a remarkable fossil like 'Big John' inspires awe and curiosity about the world around us."
The skeleton, which preserves more than 75% of its original bones, was buried in the Hell Creek geological formation in South Dakota and belonged to a specimen of triceratops that roamed the planet during the late Cretaceous period, 66 million years ago.
Its skull is 2.2 meters wide, and if its horns were placed under the net of a basketball hoop, its tail would extend beyond the three-point line, the report said.
In addition, marks found on the back of the skull indicate various traumatic injuries, perhaps due to a very violent life.
"When we discovered that 'Big John' was the largest triceratops ever discovered, we were very excited to bring it to the Glazer Children's Museum, where it will be on display for about three years, Pakitipati added.
"Big John" was discovered in 2014 by Walter Stein, founder of a South Dakota company called Paleo Adventures, which mines fossils for commercial sale.
Stein "hoped that a museum in America would buy it, but no one came forward because of the cost of preparing the skeleton for display because it was still covered in rock.
Italian fossil company Zoic acquired the skeleton, and its team spent much of 2021 carefully extracting the bones.
"They sculpted, shaped and 3D printed the missing pieces to complete the exhibit," but the model provides 75% of its original skull and 60% of its total skeleton, according to the Tampa Bay Times.
Get instant information on your cell phone. Join the Diario Primicia WhatsApp group through the following link: https://chat.whatsapp.com/LGrm4avkkIt9vm7NJUXF1U
We are also @DiarioPrimicia on Telegram, join here:https://t.me/diarioprimicia
"Wannabe web geek. Alcohol expert. Certified introvert. Zombie evangelist. Twitter trailblazer. Communicator. Incurable tv scholar."