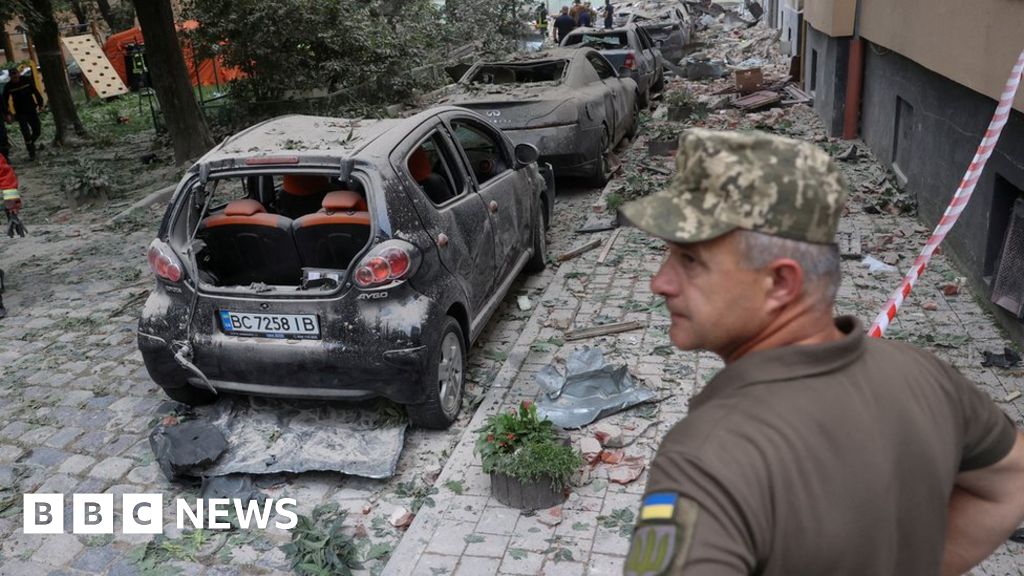 Written by Yaroslav Lukiev
BBC News
Ukraine's interior minister said a Russian missile hit an apartment building in the western city of Lviv, killing at least four people.
Ihor Klimenko added that another 32 people were wounded in what the mayor of Lviv described as "one of the biggest attacks" on the city's civilian infrastructure.
President Volodymyr Zelensky vowed a "concrete" response to the attack by "Russian terrorists" overnight.
The Russian military has not commented on the reported attack.
At least seven people have been rescued from the apartment building, Klimenko said, writing on Telegram, adding that there are fears more people may be trapped under the rubble.
Mayor Andrzej Sadović posted a video showing shattered windows in the bombed-out building, which appears to be four floors.
Damaged cars and debris are seen in the footage.
"Many apartments were damaged – more than 50," the mayor said in a short video message.
People were pulled from the rubble not long ago, Mr Sadovyi said, but rescue teams are continuing their search, fearing more residents may be trapped there.
The mayor later recorded a new video address after the scale of the destruction became more apparent.
He said that a number of roofs of buildings had been demolished, and a school and college dormitories for polytechnics had also been damaged.
Meanwhile, Lviv regional president Maksim Kozitsky said a "vital infrastructure facility" had been bombed in the city. He did not elaborate.
Mr Kozytskyi said that "Russia's main goal is to destroy the Ukrainian people…but we will win".
For months, Russia has been carrying out deadly missile and drone attacks on Ukrainian cities, usually hitting civilian targets and causing widespread blackouts.
Just last week, 13 people — including children — were killed when a restaurant and shopping mall were bombed in Kramatorsk, an eastern city near Russian-occupied parts of Ukraine.
And despite being located hundreds of kilometers from the main front lines in eastern and southern Ukraine, Lviv has also suffered from Russian aggressions.
"Professional web geek. Alcohol fan. Devoted zombie trailblazer. Certified social media lover. Amateur creator. Friendly food nerd."