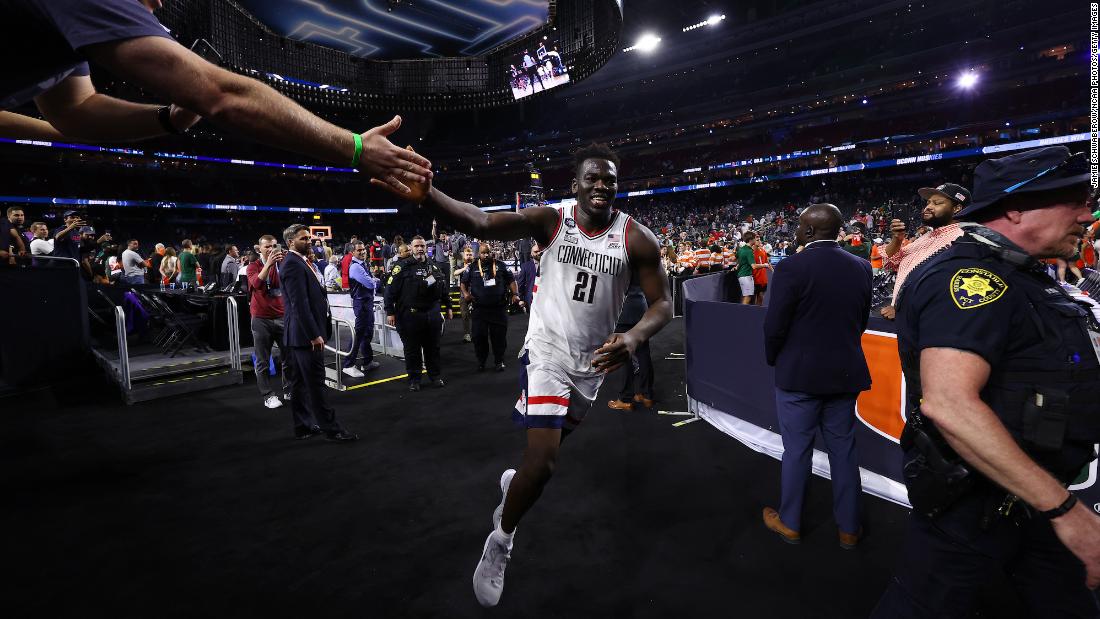 (CNN) Fourth-seeded UConn advanced to the NCAA Men's Basketball Championship game after a 72-59 win over No. 5 Miami in the Final Four on Saturday.
It will be the first NCAA National Tournament game for the UConn Huskies since 2014.
The Huskies got off to a fast start on Saturday, taking a 9-0 lead within the first five minutes of the game. The Miami Hurricanes tried to crawl back into the game but in the end the shots didn't land on the team. Yukon forward Alex Karapan led by 10 points by dropping a three-pointer at the buzzer to give the Huskies a 37-24 lead before halfway through.
UConn's strong start continued into the second half, extending the lead to 20 points before the Hurricanes' shots began to drop. Miami narrowed the lead to 10 points again before the Huskies regained momentum.
Huskies star Adama Sanogo, who was observing Ramadan and previously said he would eat oranges and coconut water before his tip-off, was his dominant personality. He finished the game with 21 points and 10 rebounds. Guard Jordan Hawkins, who was in doubt for playing with a non-Covid illness, added 13 points.
UConn coach Dan Hurley gave his coaching staff and players all the credit for the team's success.
"I'm glad I was able to attract the right kind of person to put me in this position," Hurley told the CBS broadcast. "The coaching staff and these great players and I clearly appreciate the University of Connecticut. They took a chance on a guy who was a high school coach not long ago. What a blessing and so grateful. … We've been striving for five for a while."
Earlier on Saturday, No. 9 seed San Diego State stunned No. 9 Florida Atlantic in the last second to win 72-71 and advance to its first ever NCAA title game. Trailing 71-70 with less than two seconds left in the game, Aztecs guard Lamont Butler hit a tow neck at the buzzer to propel the school into the national championship game.
The Huskies are now looking to win the program's fifth national championship when they take on San Diego State Monday night at NRG Stadium in Houston.
"Thinker. Wannabe twitter lover. Entrepreneur. Food fan. Total communicator. Coffee specialist. Web evangelist. Travel fanatic. Gamer."