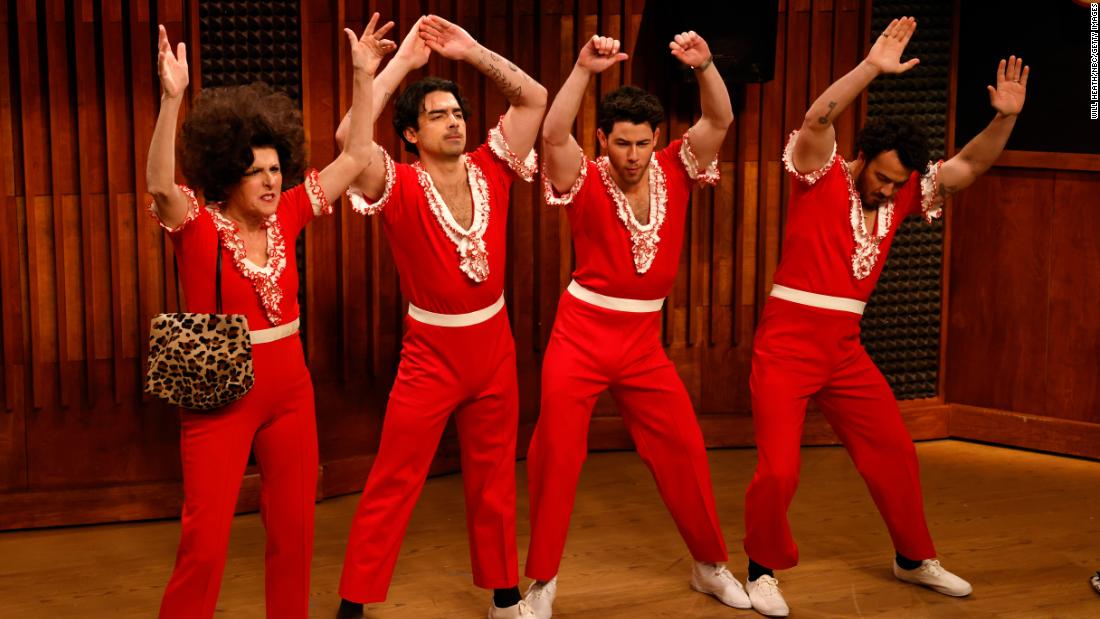 (CNN) Molly Shannon She hosted 'Saturday Night Live' on April 8 and reprized her famous character, a 50-year-old woman. Sally O'Malley.
character returned in fee Featuring the episode's musical guest, W.J Jonas Brothers', with Nick, Joe, and Kevin Jonas coming on stage to introduce Sally O'Malley as the band's new choreographer.
Kenan Thompson played the Jonas Brothers manager and broke the news to Bowen Yang and Chloe Fineman, who acted as choreographers Gretel and Turbo, that the band was looking for a new, more "mature" concept.
"My name is Sally O'Malley. I'm proud to say I'm 50. I'm not one of those girls who's afraid to find out her real age," Shannon said, before moving on to her iconic "I love kicking, stretching and kicking" routines.
Dressed in her classic red and white two-piece outfit, Shannon continued the routine of reciting the character's catchphrase: "I'm 50! 50."
Thompson, Yang, and Feynman are then seen breaking character for laughs as Shannon climbs to the waistline in her red pants, as does Sally O'Malley when she He has appeared on "SNL" in the past.
"Honey, I've been in my 50s since before you were born," Shannon said when Turbo Yang inquired how old she was.
lovable character For the first time in the 1999 chart where Sally O'Malley attends an open audition for the Rockettes with then-host Danny DeVito.
Sally O'Malley was also 50 years old.
When Nick Jonas, Joe Jonas, and Kevin Jonas walked on stage, Nick Jonas said they had a feeling Turbo and Gretel might not understand their new concept.
"We wanted to show them," said Joe Jonas as the three brothers ripped off their outfits for a fashion show to match Sally O'Malley's.
The four of them performed a kicking and stretching routine, but when Nick Jonas made a move fail, he was fired from the band and replaced by Sally O'Malley.
A graphic of a newspaper's front page appears on the screen with the headline text "New Jonas Brother 50-Year-Old Woman!"
Shannon was a cast member of SNL from 1995 to 2001 and is known for her recurring characters like Sally O'Malley and Mary Catherine Gallagher.
Saturday's episode was the second time for the "White Lotus" star. hosting The popular sketch show, with the Jonas Brothers returning as musical guests for the third time.
"Hardcore twitter fanatic. Proud coffee fanatic. Social media aficionado. Devoted tv enthusiast. Alcohol scholar. Bacon specialist. Avid troublemaker."