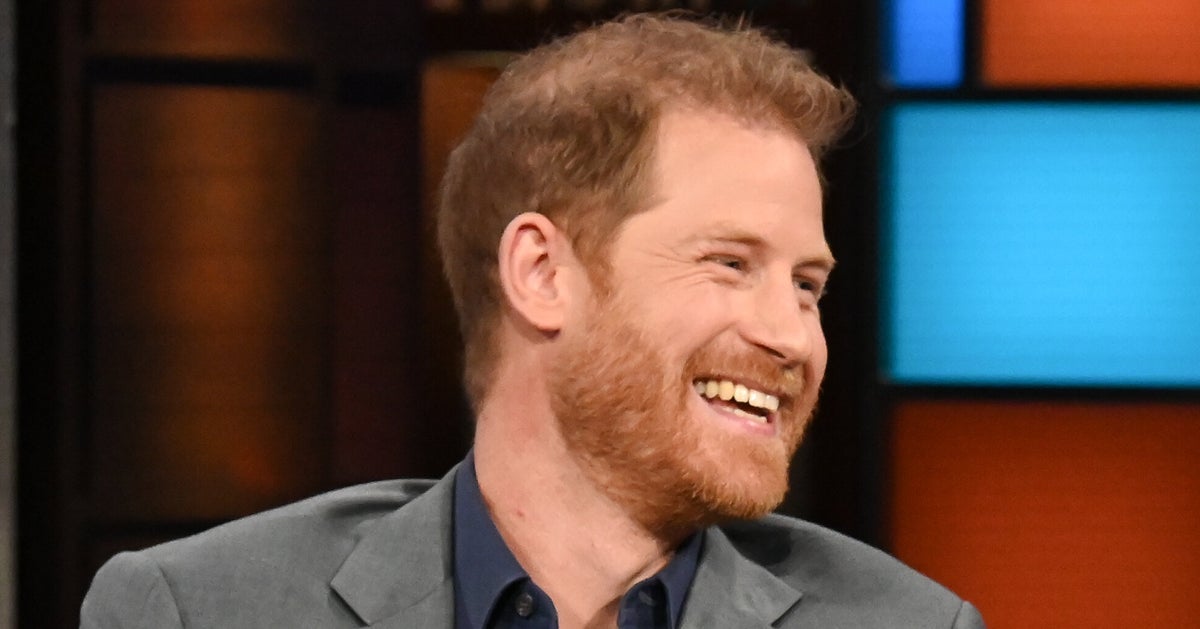 Prince Harry is a big fan of dogs, Russell Crowe and reincarnation.
The Duke of Sussex revealed a lot during "The Interrogation of Colbert," which was broadcast by "Late Show" host Stephen Colbert on Tuesday after the clip was recorded during the Queen's visit to the show in January.
Harry joined a list of previous guests including Michelle Obama and Robert De Niro in answering 15 questions. The banter quickly got underway when Colbert claimed that the test, "scientifically calculated to probe a person's depths to reveal their soul to the world," was created in a lab.
"Do you have a lab here?" Harry asked. "That explains a lot."
Harry went on to answer some of life's most pressing questions. Cats or dogs? "Ah, dogs, obviously." Apple or orange? "Orange, duh."
"Something weird about cannibalism," Colbert quipped, referring to Harry's red hair.
"You know if he bites you, you'll get ginger," Harry joked.
When the author of Spear said his favorite sandwich was "cheese and ham toast with Dijon mustard," Colbert asked if "toast" was the same as a panini. Harry said these regional language differences "got my wife and me into a lot of trouble" when they first started dating.
Colbert suggested that "fanny" was the most outrageous of all British teachings—it denotes a very different part of the anatomy across the pond—only for Harry claimed that "riding" was the worst of all America: "Where else would you ride a horse?" "
Harry went on to reveal that he once asked the entire England rugby team for their signatures for the 2003 World Cup, only for the players to "stand there with their wills hanging". He proudly confirmed that he had "all 15 autographs" on his jersey.
"They signed it with pens, yeah?" Colbert inquired.
Harry endearingly said his favorite scent was his wife, Meghan Markle, before admitting that snakes were his scariest animal. When asked what he thinks happens when we die, Harry admits that he believes in reincarnation – and hopes he will return as a sponsor.
Perhaps most notably, the Duke of Sussex has said his favorite action movie is Ridley Scott's Gladiator (2000), which is about one man who takes on an empire.
Harry, whose exit from the royal family and subsequent memoirs arguably did just that, concluded by describing the rest of his life in five words: "Freedom. Happiness. Clarity. Space. Love."
"Hardcore twitter fanatic. Proud coffee fanatic. Social media aficionado. Devoted tv enthusiast. Alcohol scholar. Bacon specialist. Avid troublemaker."