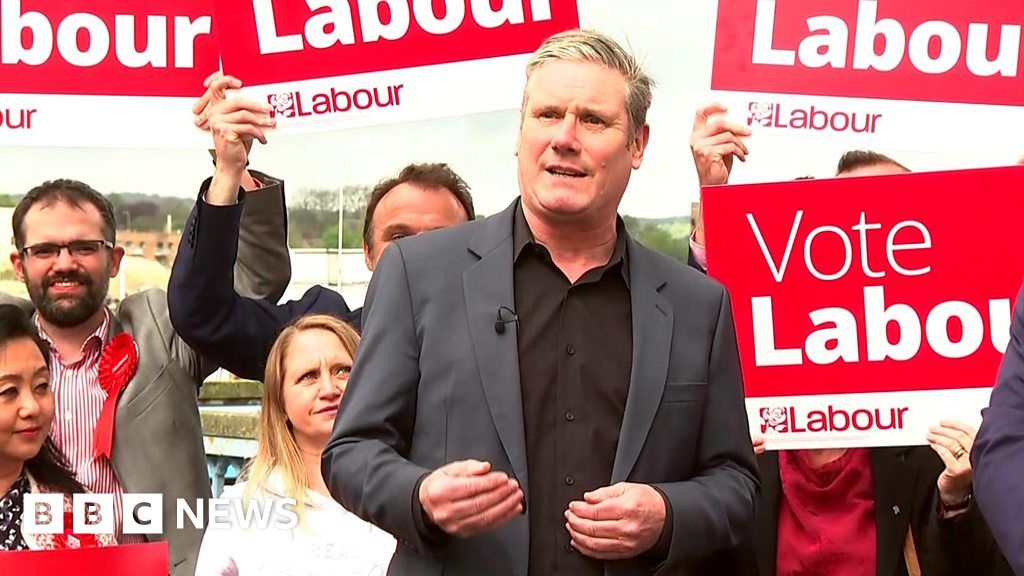 Written by Joshua Nevitt and Brian Wheeler
BBC Politics
Labor said the heavy losses in the local Conservative elections represented a "clear rejection" of Rishi Sunak in his first election test as prime minister.
And Labor leader Sir Keir Starmer claimed that his party is on its way to winning the next general election, expected next year.
The Conservative Party lost 48 councils and more than 1,000 councilors across England in opinion polls on Thursday, beating their worst predictions.
Labor says it is now the largest party in local government, overtaking the Conservatives for the first time since 2002.
A Labor Party spokesman said: "British public opinion sent a clear rejection to a prime minister who did not have a mandate in the first place."
The Liberal Democrats got what their leader Sir Ed Davey described as their "best result in decades", taking control of 12 Houses, most of them in the Conservative core. The party gained 405 new councilors, compared to Labour's gain of 536.
The Greens secured 241 seats – their best ever result in a local election – and secured their first majority in the English assembly, in Mid Suffolk, although Labor overtook them as the largest party in Brighton and Hove.
Sunak acknowledged the results were "disappointing", but said he had not seen "a significant wave of movement towards the Labor Party or excitement for its agenda".
Sir Keir claimed the "impressive" results showed his party was well placed to oust the Conservatives from government at the general election expected next year.
"Make no mistake, we are well on our way to achieving a majority for Labor at the next general election," he told jubilant campaigners at Medway in Kent, one of the councils his party wrested from the Tories.
"a bit of a disaster"
Labor won control of councils in areas that would be crucial battlegrounds in the general election, including Medway, Swindon, Plymouth, Stoke-on-Trent and East Staffordshire.
The BBC's projected national vote share puts Labor on 35%, the Conservatives on 26% and the Liberal Democrats on 20%.
Labor's projected nine-point lead marks its biggest lead over the Conservatives on the measure since the party lost power in 2010.
Pollster Sir John Curtis said this year's results were "little short of disastrous for the Conservatives".
But the BBC's political editor, Chris Mason, said the results suggested it would be difficult for either the Conservatives or Labor to be confident of winning a majority in the next general election.
Labour's shadow cabinet member Peter Kyle denied the results, which saw the Liberal Democrats gain nearly as many new councilors as Labour, were an anti-government vote, rather than a pro-Labour vote.
"I don't think you can read much into it," he told BBC Radio 4's Today programme.
He added, "In all the areas that Labor has targeted, we've concentrated resources, we really wanted to reconnect with voters, we've done that."
He said that Sir Keir Starmer had "led from the front" and that Labor had run a "disciplined" campaign, winning back voters in "key places" such as Stoke and parts of Kent, showing that it was "going towards government".
In Swindon, where Labor took control of the borough council for the first time in 20 years, ousted Conservative council leader David Rennard blamed "the cost of living and the government's performance in the past 12 months" for his party's troubles locally.
Reynard said that although the Prime Minister had "started to settle things", voters in Swindon "what came before was something they didn't like".
Tees Valley Conservative Mayor Ben Houchin, who will run for election next year, said the Conservative Party's poor performance was partly the result of "the upheaval and upheaval of the last 12 months".
He said that the Labor Party had "managed to make this a referendum on the government", adding that "people don't feel they can vote for us".
"I think we can safely say" that the Conservatives will lose the next general election, said Nigel Churchill, a former Conservative who lost his seat on Plymouth Council – another Labor target.
"The general public does not trust them at the moment," he said.
But Education Secretary Robert Halfon said this year's local elections "will always be tough" for his party.
He said internal partisan divisions "didn't help", but claimed the losses were due to external factors, such as the cost of living crisis and problems with the NHS.
"Every government during the mid-term period, especially the government that has been in power for 13 years, always suffers losses in local elections," he said.
Other Tory MPs told the BBC that apathy – Conservative voters staying home – was also a big problem for the party.
Key results at a glance:
exhaustion It has 536 councillors and 22 councilors – including key battlegrounds in Swindon, Plymouth, Medway and Stoke-on-Trent, where the party hopes to succeed in the next general election.
Tories He lost 1,061 councilors and 48 councils, but gained control of Torbay and Werry Forest
Liberal Democrats Gained 12 councils and 405 councillors, including former Tory strongholds of Windsor and Maidenhead, and Stratford-upon-Avon
approximately 250 green Councilors were elected, and the party won an outright majority for the first time ever on a council in Mid-Suffolk
The seats available were mostly on the county councils, which are responsible for services including bin collections, parks, public housing and planning applications.
The rest of the election was for a mix of urban and unit councils – one local authority handling all local services – and for four mayors.
The election was the first in England in which voter identification was checked at polling stations. Some voters told the BBC they were refused entry to polling stations, prompting critics to call for the ID rules to be dropped.
"Professional web geek. Alcohol fan. Devoted zombie trailblazer. Certified social media lover. Amateur creator. Friendly food nerd."