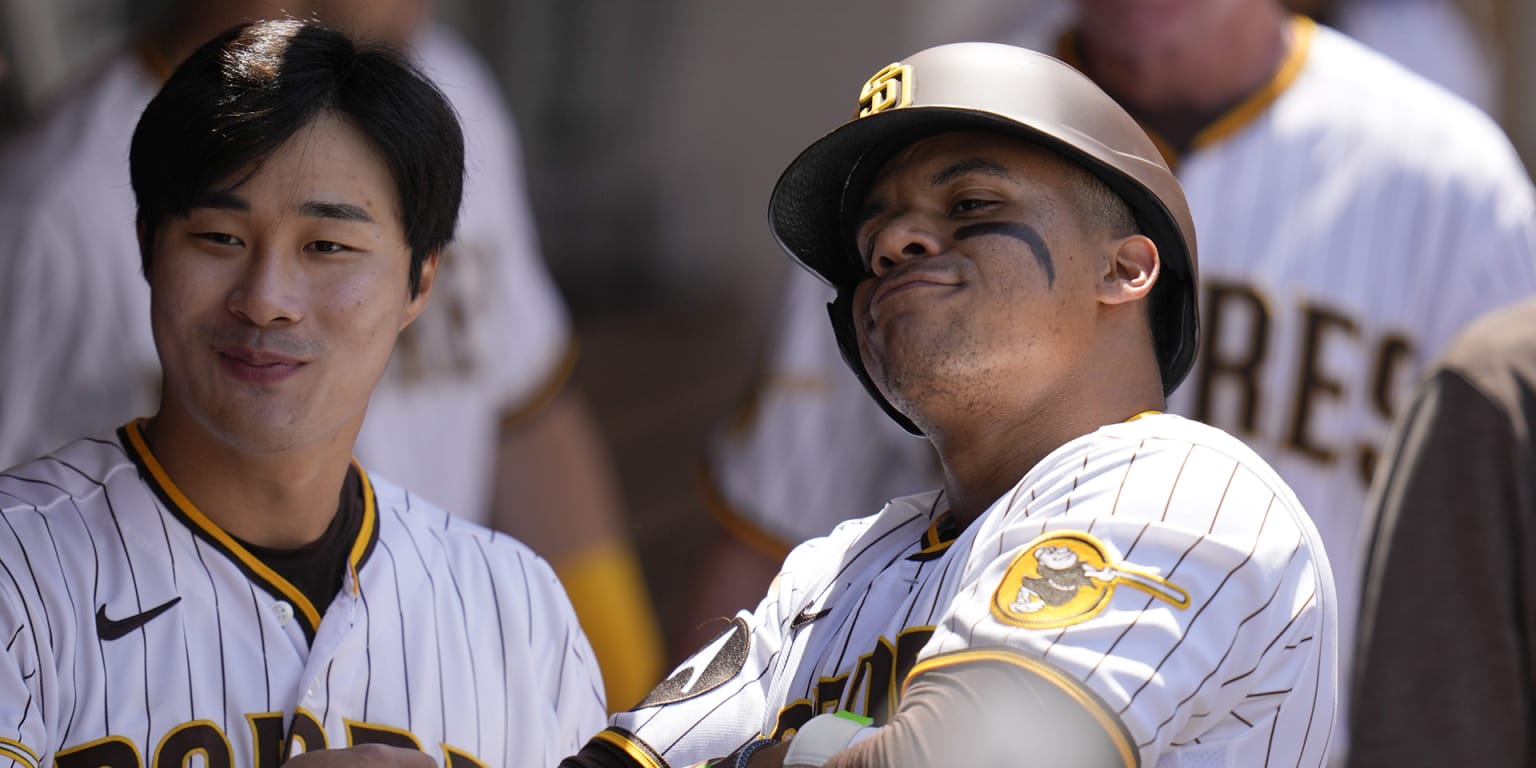 SAN DIEGO – The 2023 Padres are designed to be a very good team without Fernando Tatis Jr., and it may be complete with his arrival after 20 games.
For most of the first three weeks of the season, they didn't exactly look their part. But they sure did on Wednesday.
With their 1-0 win over Atlanta at Petco Park, the Padres moved to 9-11 on the season before they welcomed Tatis back Thursday in Arizona. They got seven scoreless innings from right-handed Nick Martinez. They've got great gloves across the board – most notably from Manny Machado. And Juan Soto delivered the blow—his 431-foot blast to right center field in the fourth inning proved decisive.
Losses stink – it doesn't matter if [Tatis] Soto said. "We just have to get started. We have a great team. We are very excited to have him back."
Tatis is set to return from his PED suspension Thursday, providing a much-needed boost for the team to a slow, offensive start. But the Padres insisted that Tatís' arrival should not be seen as a cure-all for their early season struggles.
This is the team that reached the National League Championship Series without Tatties last season. They've added Xander Bogaerts and a handful of other pieces that are very useful during the holiday season.
There are signs that the rest of the Padres are starting to perform just as well as they can expect. Most notably Soto, who hit base three times on Tuesday night, then twice on Wednesday, including a moonsault in the fourth.
"I took a lot of steps forward, a few steps back," Soto said. "But I think this is a really good one, and I feel like I'm in a really good place right now."
Machado, too, struggled in the lead, going just 1-for-4 on Wednesday. But he came within inches of increasing the Padres' lead with a two-out blast in the fifth inning—before Braves center fielder Sam Hilliard stole it with a wall jumper, evoking images of Adam Jones stealing Machado in the 2017 World Series Baseball Classic.
"I thought I was going to sneak in there," Machado said.
However, Machado has made a lot of solid connections over the past two days. If he and Soto turn a corner, it's a daunting proposition for the show's crew to oppose, considering Tatesse's pending return.
Meanwhile, the Padres starting staff will welcome Joe Musgrove back this weekend after missing the first three weeks while recovering from a broken left toe.
"These are two great players who will help us a lot," said Machado. "We're looking forward to it. … Even when they come back, we keep playing Padre baseball, I think we'll be fine."
Recently, the offense has been absent from Padre baseball. But defense and defense were plentiful. Machado made three great plays at third base on Wednesday, including a spinning throw to rob Ronald Acuña Jr. of a hit in the fifth. Trent Grisham patrolled center field as well, and Ha-Seong Kim and Jake Cronenworth each finished the innings with stellar defensive plays.
"That's why I don't have a voice," Martinez said hoarsely afterward. "I was pretty much screaming at every turn."
Martinez has produced his best performance of the season, and questions abound about his role going forward. The Padres plan to reduce the size of their rotation from six to five next week, with several rest days on the horizon. With Musgrove back on Saturday, it's likely that two starters will be heading to the bullpen.
Martinez made a strong case for staying in the rotation – though he made it clear that wasn't his goal.
"I strive to win ball games," Martinez said. "I don't know about promoting my site. … I was clear from the start that I just wanted to win the World Series."
Obviously, this is a mindset a Padres manager can get behind.
The Padres had down three in a row and six of seven. They have not applied since Saturday. On Wednesday, in the top of the fourth inning, Melvin moved to the tray on the far side of the dugout. It almost does not stand there. After that, Soto called up, and Melvin stayed on for a couple more innings when the Padres were batting.
"Desperate measures for desperate times, I guess," Melvin quipped. "…It's a fairy game. It can't hurt right?"
Wed did. And the Padres are back in the winning column.
"Sometimes, no matter how you get it, winning is a welcome relief," said Melvin.
"Thinker. Wannabe twitter lover. Entrepreneur. Food fan. Total communicator. Coffee specialist. Web evangelist. Travel fanatic. Gamer."