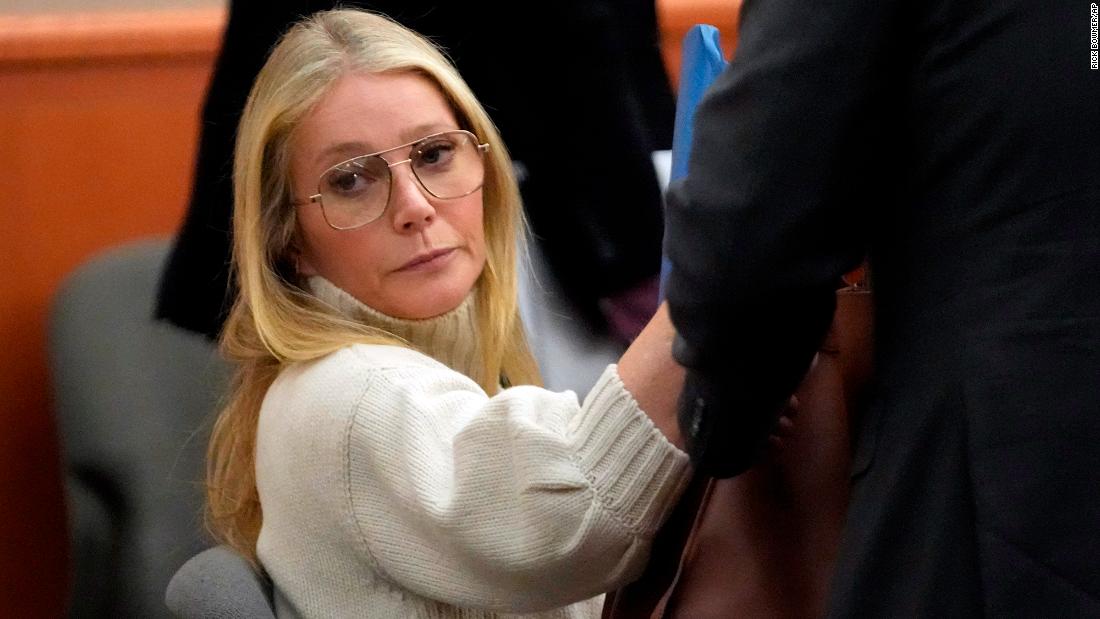 (CNN) Testimony resumed in a trial in Utah over a 2016 skiing accident involving Ghouinith baltrow.
The actress and businesswoman sits in the Park City, Utah, courtroom as opening statements in the case begin on Tuesday. Terry Sanderson, 76, has accused Paltrow of colliding with him and causing permanent injuries and brain damage while they were skiing a novice on Utah's mountain in February 2016.
The two have been in a legal battle for seven years.
On Wednesday morning, Paltrow's attorney, Steve Owens, raised an objection to a still courtroom photographer transmitting a photo of her. It was a violation of the court's tact order, Judge Kent Holmberg agreed, stating that stills of the proceedings should "follow the microphone." The camera was seized and the judge said the reporter would be removed if it happened again.
A doctor for Sanderson is currently testifying about the MRI imagining.
In court documents obtained by CNN, Sanderson stated that while skiing at Deer Valley Resort, Paltrow allegedly "went out of control… I knocked him hard, knocked him out, caused a brain injury, broke four ribs and other serious injuries."
Paltrow filed a counterclaim against Sanderson, a retired ophthalmologist, claiming he skated on her.
According to Paltrow's counter suit, she was "enjoying skateboarding with her family on vacation in Utah, when the plaintiff — who was ascending from Mrs. Paltrow — shoved her back. She took a total hit." Mrs. Paltrow was angry with the plaintiff, and said so. The plaintiff apologized. I was so shocked and upset, I stopped skiing that day even though it was still morning."
Sanderson initially sued Paltrow for $3.1 million, but later amended his complaint and is now seeking more than $300,000 in damages, according to court documents.
Paltrow demands $1 in damages, plus attorneys' fees.
The trial is expected to last one week.
"Hardcore twitter fanatic. Proud coffee fanatic. Social media aficionado. Devoted tv enthusiast. Alcohol scholar. Bacon specialist. Avid troublemaker."