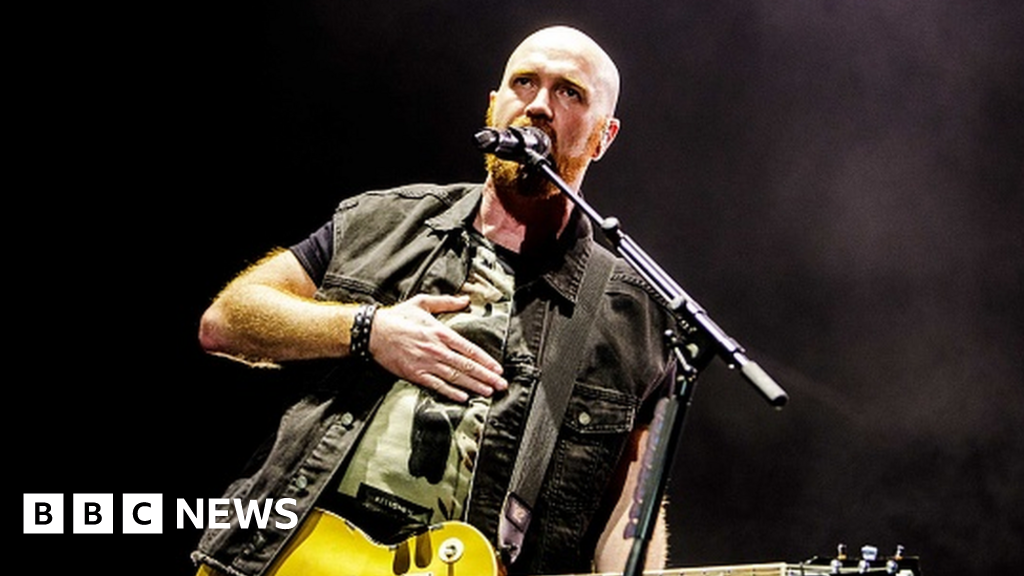 Mark Sheehan, founder and guitarist of the Irish rock band The Script, has died.
The band announced that the 46-year-old died in hospital on Friday after a short illness.
Sheehan formed the group in 2001 along with vocalist Danny O'Donoghue and drummer Glen Bauer.
A statement on the band's social media pages said Sheehan was "a much-loved husband, father, brother, bandmate and friend".
She asked fans to respect the privacy of his family and his bandmates.
Sheehan's contemporaries in the entertainment industry were quick to honor his memory.
In a statement posted to Instagram, Irish TV presenter Laura Whitmore wrote: "Thinking of all of you at this time.
"Mark was one of the nicest and most talented guys you could meet."
In an Instagram tribute, Irish pop duo Jedward said: "Everyone in the Irish music industry and around the world is saddened by your loss RIP Mark such a talented musician from The Script, one of the most iconic Irish bands of our generation."
Fellow Irish rock band Kodaline also paid tribute, posting on Twitter: "So sorry to hear (of) the passing of Mark Sheehan".
Irish President Michael D. Higgins said Sheehan was an "outstanding" example of Irish musical success on the world stage.
"It was a mark of originality and distinction that Mark and his colleagues at The Script have sought to bring them to such worldwide success, including their first six albums in the UK and their third album in the US – a truly remarkable feat," he said.
Sheehan was born on October 29, 1976 in Dublin, Mount Brown, in Liberties. She was married to Rena Sheehan, with whom he had three children.
He was a singer, songwriter, guitarist and passionate about music from a very young age.
From 1996-2001 he was a member of the band Mytown, along with The Script's frontman O'Donoghue.
The script began in Dublin in 2001 with Sheehan as guitarist, O'Donoghue as singer-songwriter, and Bauer as drummer.
The band moved to London after signing a record contract with Sony Music Group.
There they released their first full-length album, "We Cry", which reached number one in both Ireland and the UK.
After that, their next three albums, Science & Faith, #3 and No Sound Without Silence, topped the album charts in both countries.
Science and Faith reached number three in the US and number two in Australia.
Since then, the band has continued to tour the world and release albums of original music, combining Irish themes with pop-rock nuances.
They've been known for their heartfelt writings, including "If You Could See Me Now," which is about the death of singer O'Donoghue's father and both of Sheehan's parents.
Over the past year, fans have wondered why Sheehan took a short break from the stage.
In 2022, Sheehan was absent from the US leg of the band's tour. O'Donoghue told the media that his bandmate had taken a break to spend time with his family.
He explained to the Sunday World newspaper that the group were supportive of Sheehan's decision, describing them as a "band of brothers" who "stick together no matter what".
In 2013, The Script had a brush with royalty, when the Queen visited the BBC's Broadcasting House and saw a performance of The Script, speaking briefly with singer O'Donoghue.
Sheehan said that when he was told about the royal engagement, he thought "people were making fun of us."
The script is set to support American artist P! nk during her European tour later this year.
"Hardcore twitter fanatic. Proud coffee fanatic. Social media aficionado. Devoted tv enthusiast. Alcohol scholar. Bacon specialist. Avid troublemaker."