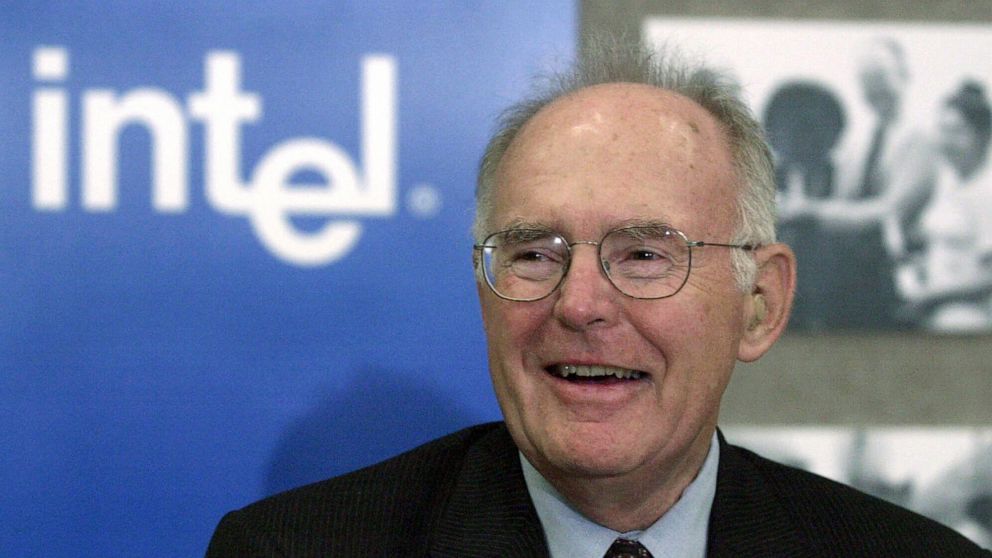 Moore and Robert Noyce founded Intel in 1968.
The company and the Gordon and Betty Moore Foundation announced the death of Gordon Moore, co-founder and former chairman of tech giant Intel, on Friday at the age of 94.
A press release stated that Moore died "surrounded by his family" in Hawaii.
Moore and Robert Noyce founded Intel in 1968. Moore initially served as executive vice president until 1975, when he became president. In 1979, Moore was appointed Chairman and Chief Executive Officer, positions he held until 1987, when he stepped down as CEO and continued as Chairman of the Board.
Moore became honorary chairman of Intel in 1997, and stepped down in 2006.
"Those who have met and worked with Gordon will forever be inspired by his wisdom, humility, and generosity," foundation president Harvey Feinberg said in a statement. "Though he never aspired to be a household name, Gordon's vision and life's work enabled the massive innovation and technological advances that shape our daily lives. However, these historic accomplishments are only part of his legacy."
Pat Gelsinger, CEO of Intel, said, "Gordon Moore defined the technology industry with his insight. He was instrumental in revealing the power of transistors, inspiring technologists and entrepreneurs through the decades."
Prior to founding Intel, Moore and Noyce co-founded Fairchild Semiconductor, where they played central roles in the initial commercial production of diffuse silicon transistors and later the world's first commercially viable integrated circuits.
"The world has lost a giant in Gordon Moore, who was one of the founding fathers of Silicon Valley and a true visionary who helped pave the way for the technological revolution," tweeted Apple CEO Tim Cook. "All who have followed us owe him a debt of gratitude. May he rest in peace."
Along with his wife of 72 years, Betty Erin Whitaker, he founded the Gordon & Betty Moore Foundation, which has donated more than $5.1 billion to charity since its founding in 2000, according to the foundation.
Moore received the National Medal of Technology from President George H. W. Bush in 1990, and the Presidential Medal of Freedom from President George W. Bush in 2002.
In addition to his wife, Moore is survived by his children, Kenneth and Stephen, and four grandchildren.
"Unapologetic reader. Social media maven. Beer lover. Food fanatic. Zombie advocate. Bacon aficionado. Web practitioner."