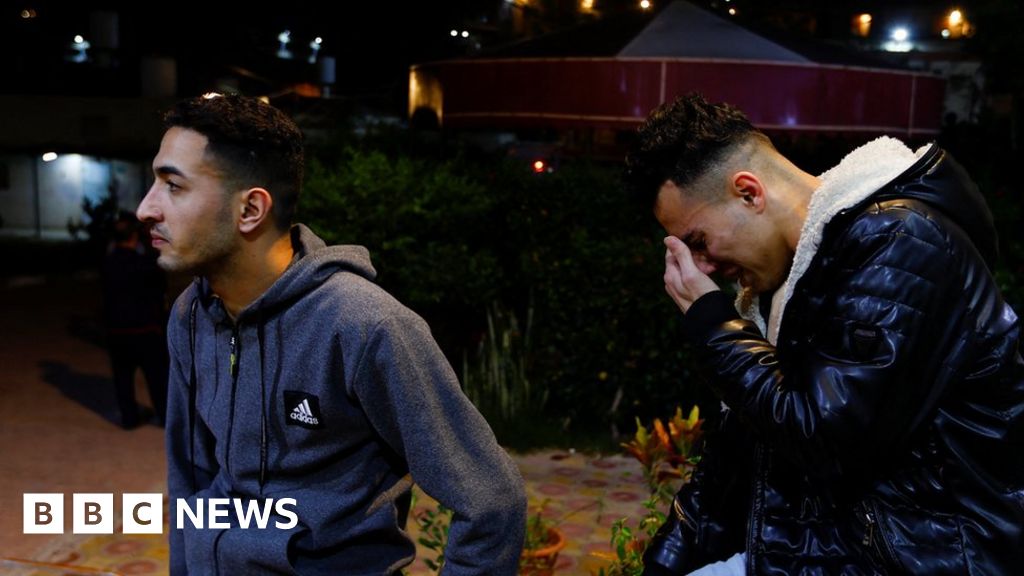 By Rushdi Abu Alouf in Gaza and Antoinette Radford in London
BBC News
A pre-dawn Israeli air strike on an apartment in the Gaza Strip resulted in the killing of a senior leader of the Islamic Jihad Movement in Palestine and another person.
A warplane attacked an apartment on the fifth floor of a building in Hamad Residential City, near Khan Yunis, south of the strip.
On Wednesday, militants in Gaza fired more than 460 rockets into Israel.
The Israeli army struck more than 130 militant targets in Gaza, in the fiercest fighting in nine months.
Palestinian medical sources estimate that the death toll from the fighting this week has now reached at least 24, including three other PIJ commanders.
A number of people were injured in Israel's attack on shelters when rockets were fired from Gaza.
The military wing of the Palestinian Islamic Jihad confirmed that the commander of its missile unit, Ali Hassan Ghali, also known as Abu Muhammad, was killed in the Thursday morning attack.
The Palestinian Islamic Jihad is the second largest armed group in Gaza, after Hamas, and has vowed to avenge the deaths of Palestinians.
The Israeli army confirmed that it targeted Ghali and what it called "other activists from the Islamic Jihad movement in Gaza."
They described the commander as a central figure in the Palestinian Islamic Jihad, who was "responsible for the final rocket barrage launched into Israel".
On Wednesday night, Israeli Prime Minister Benjamin Netanyahu warned that the Israeli crackdown was far from over.
"We hit Islamic Jihad with the biggest blow it has ever dealt," he said, referring to the killing of three Islamic Jihad commanders on Tuesday.
Hours before Mr. Netanyahu spoke, Egyptian media reported that Egypt had brokered a cease-fire, but there was no immediate confirmation from either side.
An umbrella organization representing the armed factions in Gaza warned earlier that "if Israel increases its aggression, dark days await it."
The air strikes this week were the deadliest since three days of fighting between Israel and the Palestinian Islamic Jihad last August, when 49 Palestinians were killed in Gaza.
The Palestinian Islamic Jihad is responsible for many rocket attacks on Israel in recent years, and is sworn to destroy Israel.
There was a serious escalation last week, as Islamic Jihad and other groups fired more than 100 rockets into Israel over two days, following the death of a Palestinian hunger striker in an Israeli prison. The Israeli army responded with air strikes on sites it said were linked to Hamas.
Tensions also remained high in the occupied West Bank on Wednesday after Israel carried out raids.
Two Palestinians were killed in the town of Qabatiya by Israeli forces, who said the two had opened fire on them. An Israeli soldier was seriously wounded during a separate exchange of fire with armed Palestinians in Tubas.
"Professional web geek. Alcohol fan. Devoted zombie trailblazer. Certified social media lover. Amateur creator. Friendly food nerd."