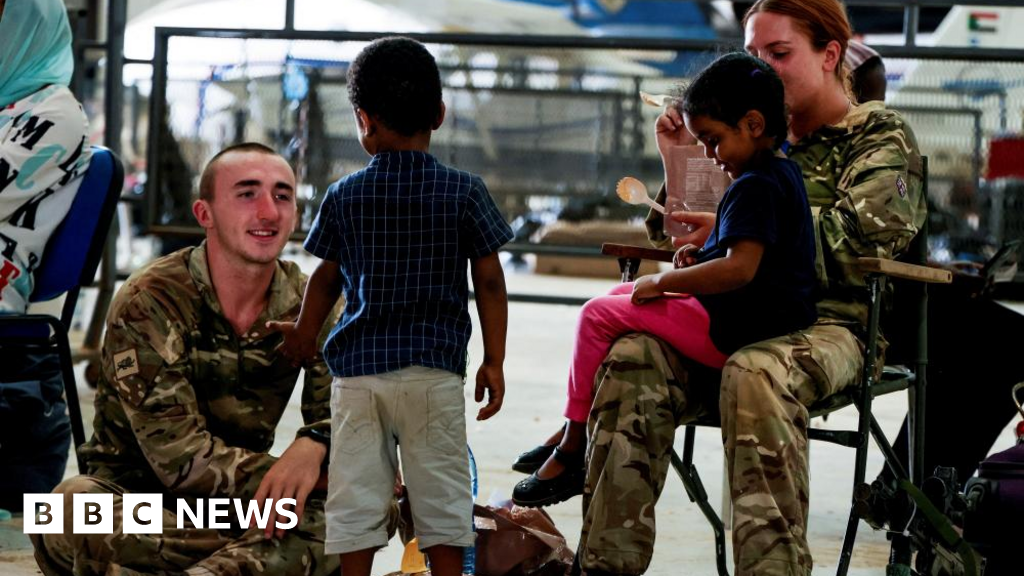 Written by Joshua Nevitt and Sean Seddon
BBC News
The UK will operate an additional evacuation flight for British nationals still trapped in Sudan on Monday.
But those eligible will have to travel to the port city of Port Sudan, 500 miles from the capital, Khartoum, where previous planes have taken off.
The UK has now flown 2,122 British passport holders, and NHS staff with British work permits, on 23 flights.
Tens of thousands of people have fled the country since fighting engulfed the country more than two weeks ago.
The capital, Khartoum, saw the fiercest fighting, as the Sudanese army and the Rapid Support Forces, a powerful paramilitary group, battled for control of the country.
The Sudanese army said on Saturday that it is launching a new major attack on the positions of the Rapid Support Forces in Khartoum.
The latest truce, which did not materialize, was scheduled to expire at midnight on Sunday. But the RSF said the ceasefire was extended for another three days.
British security services had been looking at Port Sudan as an alternative evacuation site since the start of the week, and had established a limited diplomatic presence there.
Those wishing to board the additional flight must be at Port Sudan International Airport on Monday before 1200 Sudan time (1100 GMT).
Defense Secretary Ben Wallace said: "I am grateful to our armed forces who have ensured there is an alternative to Wadi Saidna and who are currently supporting the Civil Defense and Border Forces to facilitate rescue efforts."
Wallace added that a Royal Navy frigate – HMS Lancaster – and Royal Air Force personnel are in Port Sudan.
The BBC has reported that another British ship – the RFA Cardigan Bay – is on its way to Sudan.
Foreign Secretary Andrew Mitchell warned on Saturday that the UK "cannot survive [in Sudan] forever" as the security situation continues to deteriorate.
The UK initially faced criticism for starting its evacuation after other countries, including European countries, had saved hundreds before Britain's first airlift began.
A separate operation days earlier saw British diplomats evacuated from Khartoum by special forces after fighting broke out around the embassy.
But a Foreign Office spokesperson said the UK's evacuation from Sudan had grown to be "the largest of any Western country".
"Professional web geek. Alcohol fan. Devoted zombie trailblazer. Certified social media lover. Amateur creator. Friendly food nerd."