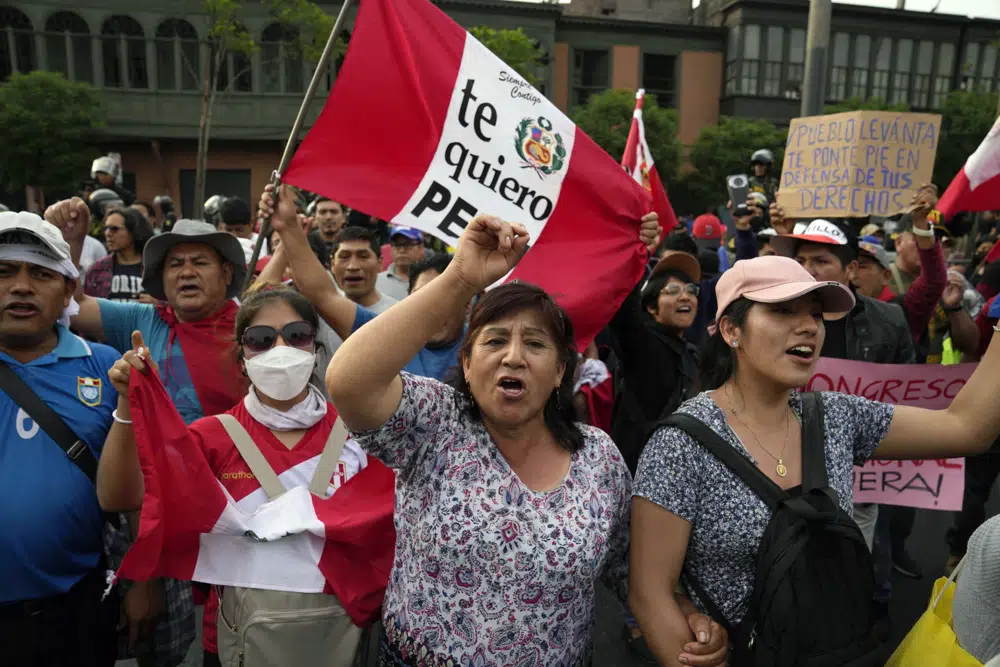 The main focus was on the city of Antahuilas in the Andes.
More than 3,000 Peruvians clashed with police in a city in the Andes on Saturday, pelting stones at a police station and detaining two agents for hours while demanding general elections, as well as the resignation of President Tina Polwarte and the discredited parliament.
The two officers were later released and police confirmed that reinforcements had been sent. Antahuelas subregional hospital director Anthony Torres told The Associated Press that 16 people were injured, one of whom was transferred to another city with a serious head injury.
The ombudsman's office indicated that the protests at the national level were maintaining a "growing trend".
The Antahuilas protests are one of several that have erupted in Peru since Pollarde took power on Wednesday after ousting congressional president Pedro Castillo.
Castillo sought to illegally dissolve Parliament. He got no support from the army. A president can shut down Congress, but after twice refusing a vote of confidence in his cabinet, that doesn't happen.
Andahuaylas is a town in the Andes where a 2005 uprising against then-President Alejandro Toledo led by retired army officer Andoro Humala took place. Humala, who served 17 years in prison, was recently released and is running for president.
In Lima, more than a thousand people demonstrated in front of Parliament and a nearby plaza, where they demanded the release of former President Castillo, among whom Bolvard was vice president.
The former president is under preliminary investigation for the crime of rebellion and has sought asylum in Mexico, which has begun consultations with Peru to implement the procedures for that request.
Initially, Pollarde swore in a centrist cabinet and asked its members not to be corrupt.
"Do you swear to God and country to act honestly and faithfully without corruption?" A phrase he repeated before swearing in his 17 ministers. He appointed Pedro Angulo, a former anti-corruption lawyer, as prime minister.
The President has also criticized his predecessor, former President Castillo, who he served as Vice President.
Castillo is the first president to be investigated during his administration (2021-2022). Accumulate six investigations, most for corruption allegations.
The president said on Wednesday that he "watched with disgust as the press and the judicial system reported the shameful acts of robbery against the money of all Peruvians."
Get information instantly on your cell phone. Join the Diario Primicia WhatsApp group through the following link: https://chat.whatsapp.com/Kns38oYKpt0ITdfo2iA2A5
We are also @DiarioPrimicia on Telegram, join here:https://t.me/diarioprimicia
"Wannabe web geek. Alcohol expert. Certified introvert. Zombie evangelist. Twitter trailblazer. Communicator. Incurable tv scholar."