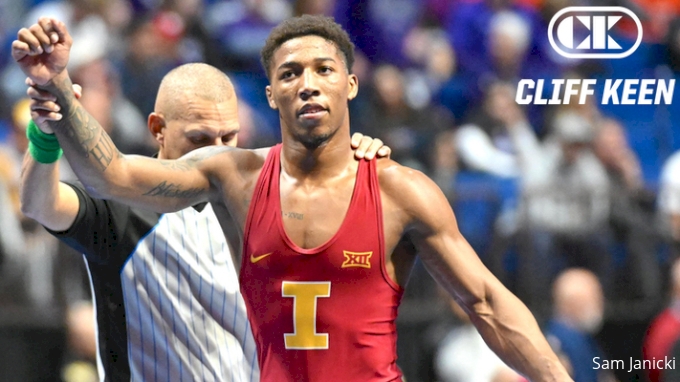 We're moving here in Tulsa. After a short break from the action, we're back on the mat for the round of 16 and consolation matches. And we're here to jot it all down for you live in real time from the BOK Center in Tulsa, Oklahoma.
March 16-18 · Yesterday resumed at 4:00 PM UTC
2023 NCAA Tournament Watch Party
It's raining here in Tulsa but it's still a great evening for some NCAA wrestling in my opinion!
Another amazing performance of the national anthem and we are just minutes away.
What are you saying? You don't care about blogging, do you just want results? Well this is a link to results only, no blog. Go check them out and ignore this blog. It's okay, I'll get over it.
Round of 16
125 pounds
One minute into the round, Spencer Lee took a 10-0 lead over Michigan's Jack Medley. And it's a 16-0 technical loss to Spencer Lee. It's very good.
Gore Faulk of Wyoming and Killian Cardinale are in a battle of 21 and 28 seeds, respectively, even though Cardinale is ranked 14th. Cardinale has shown no signs of injury that has slowed him down this season and is 5-1 after two periods. Cardinale will take it by decision and is one game away from his second AA medal.
Lock Haven's Noto is technically the higher seed vs. Barnett's Wisconsin Badger All-American is the highest ranked, No. 6 to No. 10. She's 3-3 in the third. Barnett runs away to make it 4-3 in his favor late in the third game but Noto gets the takedown in the dying seconds to advance to the quarterfinals.
Jarrett Trombley and Matt Ramos in overtime, 4-4. A pair of scrambles come close to scoring for each wrestler but the score remains tied and turns into a tiebreaker. Trombley made Boilermakers fans sweat but No. 4 seed Matt Ramos survives the quarter-finals.
Nebraska's Liam Cronin, the undefeated No. 3 seed, advances to the quarterfinals over UMD's Braxton Brown.
Leading Glory Ungar 4-0 and pouring it on rival EIWA. The Princeton Tiger outlasts Cornell to win the Major.
Brandon Courtney ends Jack Wagner's Cinderella show. The Sun Devil beats the Tar Heels by regular decision.
Remarkable consolation results
4th and 12th seed Northwestern's Mike DeAugustino wins by eliminating 5th and 11th seed Caleb Smith from App State.
133 pounds
#1 Roman Bravo Young continues his run to third place. UTC's Brayden Palmer makes it work but RBY collects the win without too much trouble.
Kay Oren of NC State is the sole representative of CSU-Bakersfield, Chance Rich. Oren takes it in the main and performs the iguana tongue ceremony (I assume) to the big wolfpack band present.
Pop alert: #19 Eddie Ventresca knocks out #7 and two-time All-American Pat McKee. This is where McKee thrives, in the consolation slice. He was eliminated early in the last NCAAs finishing third and fifth.
One of the championship's most anticipated rounds, at least after updating the 133-pound class once Lehigh's McGonagle scratches, begins, as Ohio State's Michael McGee squares off with Ohio State's Jesse Mendes. McGee didn't let Mendez attack him and beat the freshman 6-2.
Red hot Aaron Nagao has Pitt's Mickey Phillippi, a three-time bloodsucker looking for his first trip to the medal round in his final year of eligibility. And Nagao rolls into monster mode, running through a scramble and getting two close-ups before securing the pinfall.
Vito Urugao pulled the score on Zach Redding, at least over two periods.
Three-time NCAA runner-up Dutton Vex, who would very much like to add a title to that accolades list, is racing the early lead inside the circuit closest to his hometown of Sand Springs, Oklahoma. And it's an 8-4 win for Fix, his 100th collegiate career win, courtesy of Arena Announcer Bryan Hazard. That's a lot of gain!
Sam Latona, a Virginia Tech All-American via Alabama, scored another close range win, this time 2-1 thanks to riding time, over Air Force's Cody Vippen.
Lucas Bird of Illinois defeated Michael Colaiyoko of Bean in a mild upset, placing the 11th seed over the 7th seed and 6th seed.
141 pounds
Cole Matthews of Pete (and sponsored by Primanti Brothers) earned his first win in a weight class with a 1-0 victory over Kyle Abel.
NC State's Ryan Jack of Connecticut leads Purdue's Parker Philius of Montana in a battle between two wrestlers from states that don't often get much representation in the NCAAs. Filius gets the results behind the win – late warning – and Purdue advances its second wrestler to the quarter-finals.
The Real Woods were nearly upset by Ohio State's Dylan D'Emilio, but Ewan escaped with a clenched fist, drawing the Hawks fans to approval and disapproval from everyone else in the arena.
"Thinker. Wannabe twitter lover. Entrepreneur. Food fan. Total communicator. Coffee specialist. Web evangelist. Travel fanatic. Gamer."