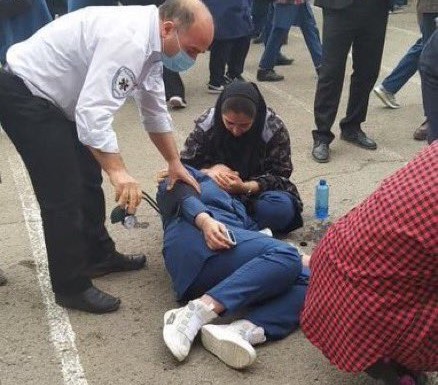 Iranian authorities reported new poisoning cases at five schools in the city of Ardabil, one center in Urmia and another in Haftgel.


Courtesy | An unknown number of students have been hospitalized

This Saturday, Iran was hit by a fresh gas poisoning at girls' education centers, in which dozens of students were poisoned across the Persian nation.
Various official media outlets, such as Ilna, said the Iranian authorities had infected 60 girls in five schools in the city of Ardabil (northwest), one center in Urmia (northwest) and another in Haftgel (southwest). .
As in the previous cases, victims experienced symptoms such as headache, difficulty breathing or dizziness.
An unknown number of students were hospitalized, but Iranian media did not provide specific data.
Activist groups such as 1500Tasvir today raised cases against at least 12 schools and institutions spread across the geography of the Persian nation.
The situation in Iran
According to a video shared by activists on social networks, "Mommy, Mommy" students shout at the gates of Sadi Primary School in Urmia city after the gas attack.
In another image, a young man is seen lying on the ground as a woman tries to help him in the city of Ardabil.
Iran's holy city of Qom has been hit by waves of gas poisoning that began in late November and escalated in February and March.
About 5,000 female students from 230 educational institutions in Iran's 25 provinces may have been infected, according to data provided in March by parliamentarian Mohammad-Hasan Asafari, a member of the commission investigating the poisoning.
The Iranian government has arrested more than 100 people for responsibility in the poisoning, which it blamed on the country's enemies.
In Iran, female education has not been questioned in the Islamic Republic's 43 years and some parents are linking toxicity to protests with a markedly feminist tone in recent months, which have calmed after a strong state crackdown.
Students from schools and institutions participated in the protests, removing their veils, chanting "woman, life, freedom" and making insulting gestures at portraits of Khamenei and the founder of the Islamic Republic, Ayatollah Ruhollah Khomeini.
🇮🇷 | #At the last minute : Another chemical attack on girls' schools in Iran.

A large number of students have been taken to medical centers due to poisoning. pic.twitter.com/qnTvnWVhCd

— Radio World (@turadioworld) April 8, 2023
Get instant information on your cell phone. Join the Diario Primicia WhatsApp group through the following link: https://chat.whatsapp.com/BNoMZwKUeWk9GJtyJhjYL6
We are also @DiarioPrimicia on Telegram, join here:https://t.me/Diaryscope
"Wannabe web geek. Alcohol expert. Certified introvert. Zombie evangelist. Twitter trailblazer. Communicator. Incurable tv scholar."