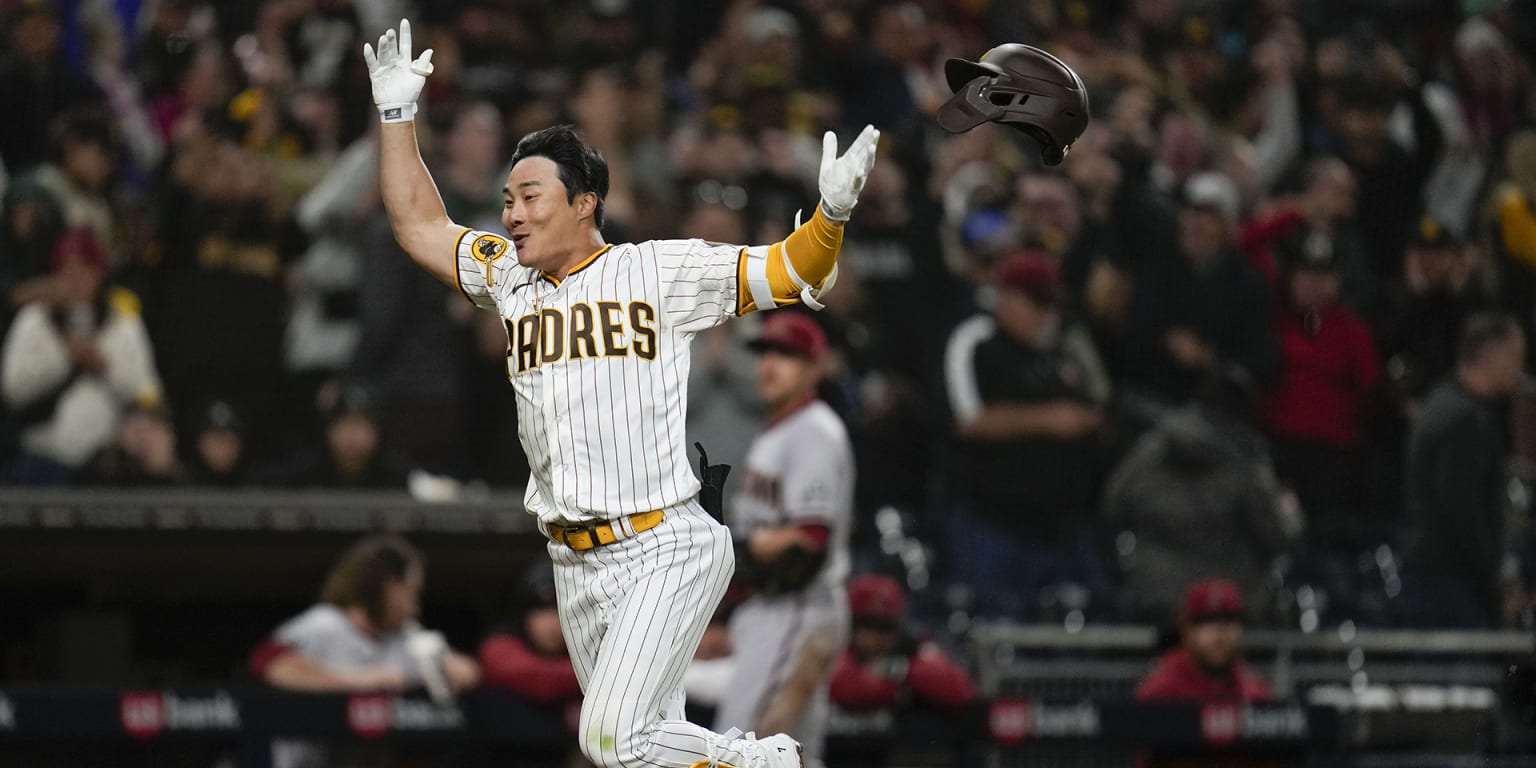 SAN DIEGO – A major turnaround occurred at Petco Park Monday night:
For all the players in this loaded Padres lineup, these probably aren't the two you'd pick to tie back-to-back games and home wins in the bottom of the ninth.
Still, they were No. 8 and No. 9 in the lineup, firing a pair of doubters as the Padres converted a deficit into a 5-4 win over a D.C. linebacker.
Dahl's pinch hit shot tied the game. Kim Laser hits his left field bench, the first home run of his big league career.
It was the first time in franchise history that the Padres had won a game in a consecutive, straight home game. It was the first time in major league history that the 8th and 9th batters had done so.
Kim said afterwards, "I'm kinda sorry to David since I brought the whole thing to light."
Dahl didn't seem to mind.
"I've been watching [the Padres] "From a distance the last two years here, they look a lot of fun," said Dahl, who made his way to the Opening Day roster after signing a minor league contract with the club during the break. "I am so grateful to be a part of it now."
Not just a part of it. Dahl's homer ignited a otherwise quiet crowd in the first half when an Evan Longoria blast put Arizona ahead. No sooner had Dahl rounded the bases and touched home plate than the Petco Park sound system blared those familiar three beats.
The crowd only needed to hear it once. They knew what to do.
"Our fans are chanting my name – Ha. Seung. Kim. Kim said through Korean interpreter Liu Bei." David Dahl – Great hit, home equalizer. I just wanted to keep that momentum going. I had great ground to hit, and I managed to get out of it."
Kim's homer was the first in franchise history from a player who started the game as the team's No. 9 hitter (probably expected after five decades of no hitter). Meanwhile, Dahl became the first Padres hitter to belt out a homer in the ninth inning or later since Hunter Renfrew in 2018 — also against D linebacker.
"It's not easy to come off the bench and hit a home run," said San Diego coach Bob Melvin.
Dahl was a somewhat surprising omission from the starting lineup on Monday, having started both of the previous two games against the right-handed pitcher. Instead, Rougned Odor got the start in right field, marking his first career outfield appearance.
Odor doubled and scored in the second half and was solid defensively. But with San Diego holding on to a lead of one in the seventh, Jose Azúcar entered as a defensive replacement.
After two shorts, the script flipped. The Padres were trailing by a run, and Melvin didn't want Azúcar to face right-handed hitter Scott McGough. Dahl called.
"Honestly, when I saw I wasn't playing, I just said, 'Hey, I'm going up in a big place tonight,'" Dahl said. "Just stay tuned throughout the game."
He doesn't get much from a single game in the bottom of the ninth.
Dahl got a groin-breaker from McGough that bunted to the heart of the plate. Not missing, he fired a blast into the opposite field in the second row of seats in left-center.
"At night here, it's not easy to do," said Melvin.
Of course, Dahl's very presence marks a meaningful shift in Padres roster building. The moves that made headlines this winter centered around the stars. They added Xander Bogaerts and a large number of pitchers. They extended Manny Machado and Yo Darvish.
But San Diego also spent its winter addressing an important area of ​​need: seat depth. The club added Matt Carpenter and Nelson Cruz to the DH platoon with the other coming off the bench. Meanwhile, Dahl was an All Star with Colorado as recently as 2019.
A year ago, the Padres built a solid starting lineup that had a great run in October. She was also unsustainably weak on the bench. This became painfully evident during some of the biggest moments in the National League Championship Series.
"It's a little different this year," said Melvin. "We have a few options."
Dahl is one of them. As he walked toward the plate in the top of the ninth inning, Padres announcer Mark Grant echoed, "It's bubble and bang time for San Diego."
And you know what? Bang and bang work too.
"Thinker. Wannabe twitter lover. Entrepreneur. Food fan. Total communicator. Coffee specialist. Web evangelist. Travel fanatic. Gamer."