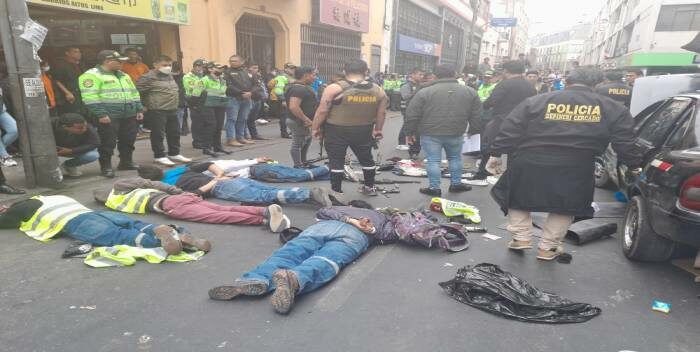 Venezuela was accompanied by a Peruvian.
Four Venezuelans and one Peruvian were arrested in a botched bank robbery in the heart of Peru's capital, Lima.
Among the group of Venezuelans involved, Jayson Perez Suarez, Alvaro Suarez Segura, Joel José Rivero Castro and Alexis Miguel Llamas Pinto were identified.
They were accompanied by Peruvian citizen Jean Carlos Félix Hurtado.
The banking agency belongs to Interbank, located in Cercato de Lima in the same city.
Amidst the arrests, the Peruvian National Police (PNP) seized various weapons, clothing and other items carried by the thieves.
The PNP confiscated three guns, two pistols, a revolver, ammunition, ski masks, construction helmets, narcotics and police vests.
Among the thieves' possessions were also found masks from the famous Spanish series "La Casa de Papel".
According to PNP Gen. Manuel Lozada Morales, head of the Lima Police Region, the citizens were waiting for a truck to arrive.
The truck would be one of the ones transporting the money to the bank's headquarters, and after its arrival, the thieves planned to attack Interbank's headquarters in Lima.
"Our Cercato Criminal Investigation Department was able to intervene and take down this criminal gang," Morales said.
Get instant information on your cell phone. Join the Diario Primicia group on WhatsApp through the following link:https://chat.whatsapp.com/BZqg22K3KUyC3oAB8A3pbK
We are also @DiarioPrimicia on Telegram, join us here:https://t.me/Diaryscope
"Wannabe web geek. Alcohol expert. Certified introvert. Zombie evangelist. Twitter trailblazer. Communicator. Incurable tv scholar."