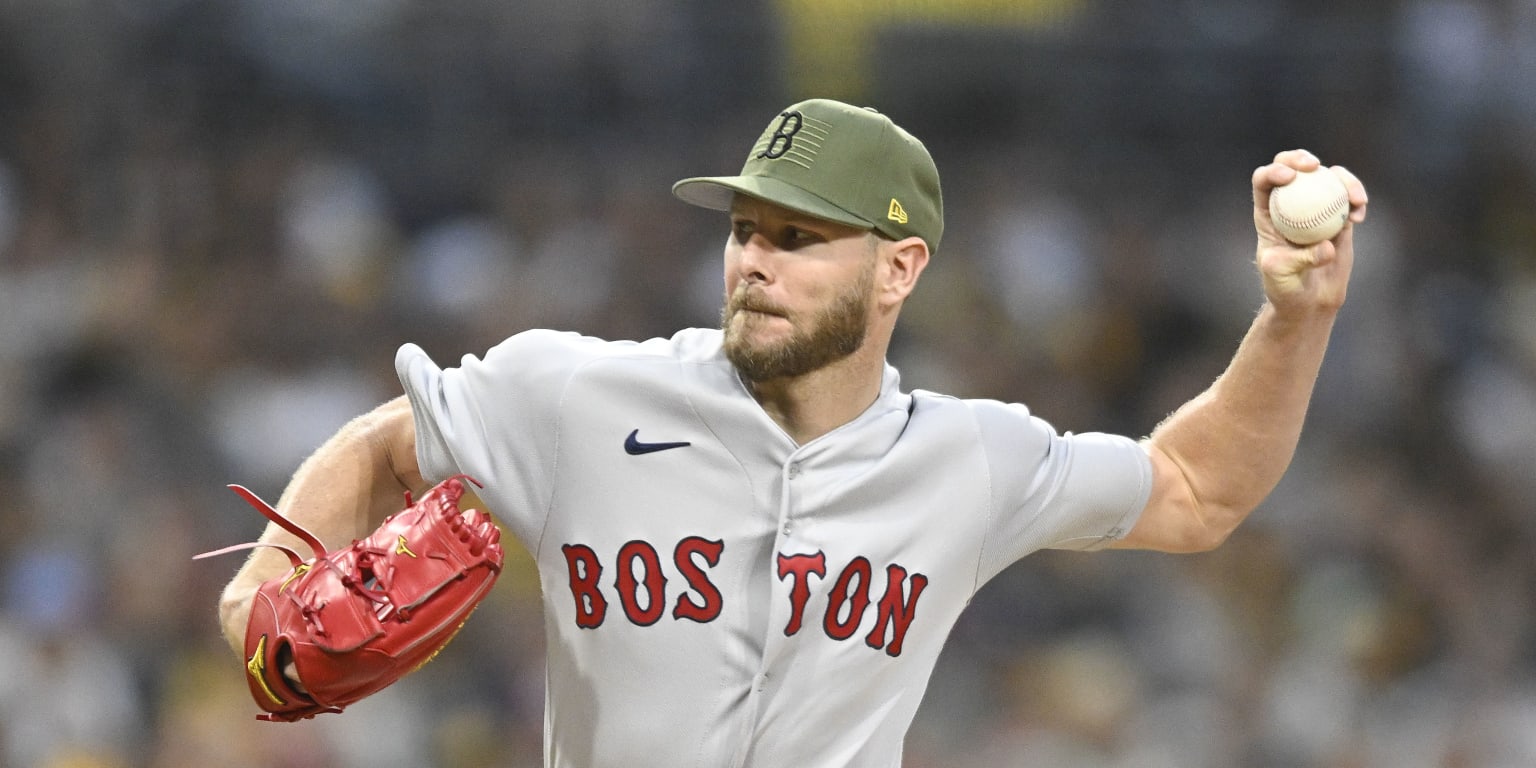 SAN DIEGO — Chris Sale was about to be in a jam Saturday night at Petco Park and his latest powerhouse performance was in jeopardy of a memorable ending.
But that was when the lefty bounced back with the most encouraging three-hit streak of the night. With each of those three batters being a potential tying run, Sale got former teammate Xander Bogaerts on a line to right and then hit Juan Soto and Nelson Cruz on bad sliders.
It seemed that Seal's outing would end there. However, he came back for the seventh game with a machine-like 1-2-3 inning one night he led the Red Sox to a 4-2 victory over the Padres.
The fact that manager Alex Cora called Sale on back for seventh even as Cotter Crawford warmed up through the sixth is a sign of increasing confidence in the resurgent ace.
"Good fastball, good slider, good drive," said Cora. "[He] He got in trouble there, we let him out and then into seventh, it was like, bring in the main guy, and he did. Then he brought in the next guy, which he did, and ended the inning. But overall, everything he's been working on is paying off and he's in a great place."
Sale, who worked hard to get back in shape after only participating twice last season, escaping trouble and then slipping back into seventh, gave it a charge.
"Yeah, it was an amazing time," Sale said. "You know, the wheels are turning there and it's obviously a defining moment in the game. With our bullpen, you can kind of flip a coin and pick a guy to get out of that situation. But [pitching coach Dave Bush] We went out, we kind of reset, and we got the game plan.
"And it worked. I obviously appreciate having that leash and then being able to come back seventh and have that as well."
The Red Sox (26-20) snapped off a four-game losing streak by winning four straight games.
The line most relevant to Boston's big picture is that Seal has done well in his last four starts, going 3-0 with a 2.30 ERA. During that span, he lowered his ERA from 8.22 to 5.01.
"I feel like I'm heading in a good direction," said Sale. "I've been here so long to feel like I'm on top of a mountain at all and I still have a lot of work to do. I know where I am. I know what I'm doing."
For now, Sale appreciates the steps he's taken in recent weeks. The pivotal moment after his rough start against the Orioles was on April 24 when Cora and the pitching department noticed some flaws in his mechanics.
The takeaway was that Sale's delivery became highly automated. The Red Sox wanted him to look athletic again on the mound. By working hard between starts, the cuts got there and the results followed.
"I feel more natural," said Sale. "So that was kind of the gist of it a few weeks ago was to go back to doing the things that made you successful, things that make you feel a little bit more comfortable there. I obviously don't have these pretty clean mechanics, but when I do the things that I need to do, that's when I get to The points I need to hit, the end results will be much better.
"We have a team of video guys, an incredible coaching staff that got me back on track, and they obviously pointed these things out to me. So again, keep grinding, keep working and see how you shake out."
Against San Diego, Seal allowed three hits and two runs, walked one and struck out eight. It was a performance reminiscent of his earlier start in Fenway against the Cardinals, when he allowed one run while striking out nine over eight innings.
"I think he's in good shape," said Cora. "Early on, there was a game, I think it was the Twins game, where he went six, left came in seven. But I didn't feel comfortable sending him out there. Now you feel good about it, you realize there's going to be a day off and his next start is on Friday." .
"Thinker. Wannabe twitter lover. Entrepreneur. Food fan. Total communicator. Coffee specialist. Web evangelist. Travel fanatic. Gamer."