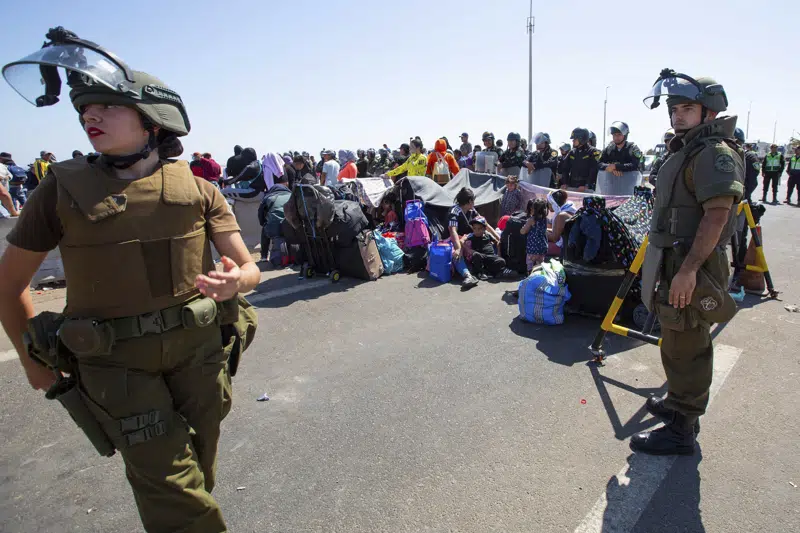 Migrants, mostly Venezuelans, continue to leave Chile and cross Peruvian soil to their country, but they cannot leave Chilean territory because the Inca government does not allow their entry.


PA | The Chilean House of Representatives will ask for priority establishment of humanitarian corridors

Hundreds of Venezuelan migrants stranded on Chile's border with Peru have tried unsuccessfully to enter Peruvian territory en route to Venezuela, while Chilean authorities propose creating a humanitarian corridor that would allow them to return to their home country. The Tina Polwart government on Wednesday declared a state of emergency in all border areas to prevent the entry of foreigners.
Migrants, mostly Venezuelans, leave Chile and cross Peru, seeking to return to their country, but they cannot leave Chilean territory because Peru does not allow them to enter due to lack of documentation. From the Chilean House of Representatives, President Vlado Mirošević will demand the creation of a humanitarian corridor to facilitate a safe and orderly return.
The Peruvian president, Tina Poluarte, ordered the city of Dagna, near Chile, to "hang police officers for border control" and a state of emergency to control foreigners.
The announcement came alongside statements that he described as "criminal acts" against migrants and that "we should talk almost in unison about migration with citizen insecurity".
In addition to the humanitarian corridor, the mayor of Arica, a city in northern Chile bordering Peru, declared a migrant emergency on Thursday in response to the crisis experienced by hundreds of stranded migrants. Gerardo Espíndola announced that "we will have the resources" to support those most in need, especially children and the elderly.
Migrants unable to advance to Peru face for days the inhospitable climate that characterizes the Atacama Desert, one of the driest on the planet, hot during the day and bitterly cold at night.
Some improvised tents had blankets, but they lacked water and basic services. Others have also received help at the nearby border complex of Sacalluda on the border with Peru.
Television images from the region showed a group of migrants running across the desert sands toward Peru on Thursday, only to be turned back into Chilean territory by Peruvian police.
Some Peruvian police fired guns into the air to tell the migrants to stop advancing and leave Peruvian territory. Later, a group of Peruvian riot police arrived and forced the settlers to move behind a border area called the Concord Line.
"Foreigners without documents will no longer enter the country," Peruvian Prime Minister Alberto Otterola told reporters on Thursday. He indicated, without giving details, that the migration problem was being discussed at the "highest diplomatic level" as it affected Ecuador, Colombia, Chile and Venezuela.
He noted the day before President Boluarte qualified the statements, saying the president "expressed the concern of the citizens of the entire country." However, he clarified that "there are only a small number of foreign nationals who commit crimes in Peru" and that the majority of Venezuelans in the country "do legitimate, honest work that contributes to the economy."
They ask for combat support
Unable to cross, some of the women at the border complained and demanded that the government of Chilean President Gabriel Boric put a bus to Venezuela. "We have to pay," said one of them. Others pushed Peruvian police to allow them to enter the neighboring country.
"We are going to act with the speed necessary for this critical situation that affects people stranded at the border," said Espindola, who has already raised the idea of ​​a corridor to evacuate people from Chile, Peru, Ecuador and more. Colombia. "Take them directly to Venezuela on a voluntary basis."
Meanwhile, the Chilean Foreign Ministry "has been in contact with Peru since the beginning," said Interior Minister Carolina Doha.
Chile's foreign minister, Alberto Van Claveren, weighed in on Polwart's decision, declaring that "pressure is increasing" on the border and sending "an important humanitarian problem" in the region.
He added that the condition "requires…combined treatment". He noted that there are open channels and three or four long video conferences with top officials have taken place in recent days. He did not specify with whom.
He pointed out that the humanitarian problem requires the help of international organizations with experience in this matter, because "we are talking about human beings, which must always be taken into account."
The situation led to diplomatic friction between Peru and Chile. Summoning Jaime Pomerada, the Peruvian ambassador in the Chilean capital, to the Ministry of Foreign Affairs, the mayor of Peruvian Dagna, Pascual Guiza, expressed his displeasure at the disqualifications he offered when he accused the Chilean president of shifting the crisis to the border. With Peru calling it "irresponsible". Pomerada declined to comment.
The Peruvian Foreign Ministry summoned the Chilean ambassador in Lima on Thursday night and announced that a group of foreign nationals had "expressed protest over the lack of cooperation shown by the Chilean police authorities" for wanting to enter by force. Peru from Chile.
The Peruvian Prime Minister addressed the matter before the press: "What we ask of President Boric and other presidents is that they solve their problems, not throw them to another country."
Queues to formalize
In Lima, hundreds of foreigners, mostly Venezuelans, lined up Thursday in front of the immigration office to try to get their documents formalized. Earlier in the day, President Pollarde had given them six months to renew their permits.
One of them was Venezuelan María Martínez, 25, and mother of a 2-year-old Colombian boy, whose Venezuelan husband worked as a diplomat in an office in Bucaramanga, Colombia.
The woman commented that she entered Peru half a year ago without documents and was living with her mother and brother, who had the documents in order. "Without papers, no one will give you a job," points out Martinez, who has tried more than 25 times to find work in clothing stores, restaurants and bakeries. "There is a stigma attached to a group of criminals who hurt the majority of Venezuelans," he opined.
For its part, Amnesty International has called for an end to what it calls the "militarization" of Peru and Chile's borders. In a public statement, he pointed out that the governments of Boric and Boluarte are exacerbating a humanitarian crisis that "increases the risk to people's lives and security."
Peru's president announced that he would promote a constitutional reform that would "authorize the permanent intervention of the armed forces in the border region." Poric, for his part, sent a top military contingent to the border in February to block the entry of undocumented immigrants.
The exodus from Chile coincides with the National Prosecutor's Office's directive on April 10 to prosecutors to detain Chileans and foreigners accused of crimes whose identities cannot be proven.
In addition, a committee of representatives passed a bill this week that seeks to declassify irregular immigration as a crime and sent it to the chamber. If approved, it will go to the Senate. The initiative proposes a jail term of 61 days to 541 days for secretly entering Chile.
Migration crisis: "A humanitarian return route is absolutely possible," says Mirosevic #Partnership with you https://t.co/T7h4LTpJi7 pic.twitter.com/8CD0IsFUOR

— Cooperative (@cooperative) April 27, 2023
Get instant information on your cell phone. Join the Diario Primicia WhatsApp group through the following link: https://chat.whatsapp.com/BNoMZwKUeWk9GJtyJhjYL6
We are also @DiarioPrimicia on Telegram, join here:https://t.me/Diaryscope
"Wannabe web geek. Alcohol expert. Certified introvert. Zombie evangelist. Twitter trailblazer. Communicator. Incurable tv scholar."