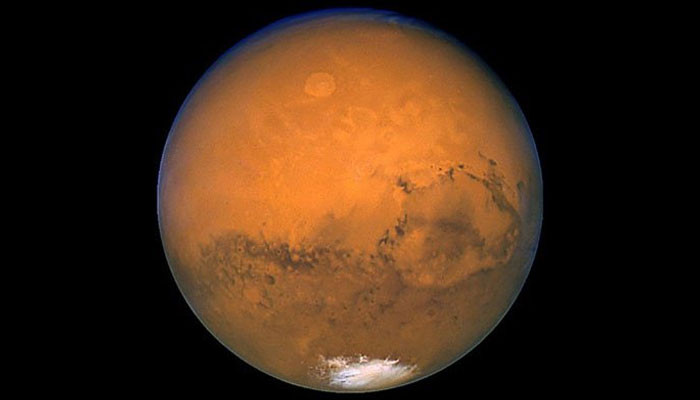 After a strong earthquake on Mars, planetary scientists noticed that its crust is thicker than that of the Earth.
According to a researcher's report in a paper awaiting appearance in Geophysical Research Letters, the crust is between 42 and 56 kilometers thick on average, which is 70 percent thicker than the average continental crust on Earth.
The report said the measurement was based on data from NASA's Insight probe, a stationary seismometer that has recorded rippling waves across Mars' interior for four Earth years.
Last May, the entire Red Planet shook at a magnitude of 4.7 on the Richter scale and lasted more than six hours.
"We were really lucky that we got this earthquake," says seismologist Doyeon Kim of ETH Zurich.
Kim and his colleagues confirmed the thickness of the crust over the entire planet with the help of Insight, which recorded seismic waves from the earthquake that hit the planet up to three times.
According to the team's results—aside from the crust being thicker than that of Earth and the Moon—it's also inconsistent across Mars.
This finding may explain the large north-south elevation difference on the planet.
According to topological and gravitational data from the orbit of Mars, the northern hemisphere of the planet is much lower than the southern hemisphere.
The researchers suspected that it might be due to a difference between the densities of rocks in the two regions of the planet.
However, after Kim and his colleagues' discovery, it was found that the crust is thinner in the northern hemisphere, so rocks in both hemispheres are likely to have the same average density.
Furthermore, when calculating the depth of the crust, the team also calculated that much of Mars' internal heat probably originates in the crust.
"Most of this heat comes from radioactive elements such as potassium, uranium and thorium. An estimated 50 to 70 percent of these elements may be in the crust rather than in the underlying mantle," the research said.
This revelation also supports the idea that volcanic activity may still be present in some parts of Mars, which negates claims that the "Red Planet is dead."
"Unapologetic reader. Social media maven. Beer lover. Food fanatic. Zombie advocate. Bacon aficionado. Web practitioner."