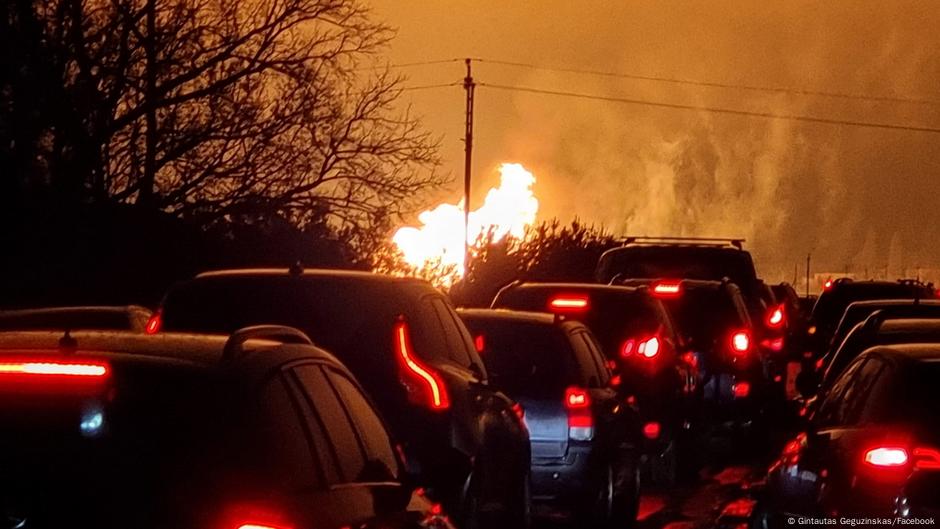 Local authorities said a gas pipeline in northern Lithuania exploded on Friday.
Amber Grid said in a statement on the Internet, "At about 5 pm (1900 GMT), an explosion occurred in the Ember Grid gas pipeline in the Pasvallis region. According to preliminary data, no one was hurt."
"The explosion occurred far from residential buildings," the statement added.
Firefighters managed to put out the fire
Amber Grid said that there are two parallel pipelines in the area, and the company said that "preliminary data indicates that the explosion occurred in one of them, while the other pipeline was not damaged."
The blast sent flames 50 meters (160 feet) into the air, according to Lithuanian public broadcaster LRT.
Firefighters were on site to put out the flames. Amber Grid later said that the fire had been put out.
Amber Grid CEO Nimonas Pycnios said that while an investigation had already begun, the incident was not seen as suspicious.
Lithuania is conducting the investigation
The Lithuanian authorities are now conducting an investigation into the explosion, and the cause remains unclear. LRT reported that a local village of 250 people had been evacuated.
The gas pipeline connects neighboring Lithuania and Latvia.
Peknyos told reporters, "We plan to restore gas supplies within a few hours and in similar quantities." "We plan that customers will not feel the impact of this event."
According to Latvian Energy Minister Raimunds Kudars, natural gas supplies to Latvia are currently not affected.
In June 2022, Lithuania bans gas imports from Russia after its invasion of Ukraine.
A month ago, the Baltic country launched a pipeline that connects the country, along with Latvia and Estonia, to the European gas network, through Poland.
Meanwhile, January 13th is Liberty Defenders Day in Lithuania. On this day in 1991, Soviet soldiers shoot Lithuanian civilians shortly after the Baltic nation gained independence from the bloc, killing 14 people in Vilnius.
wd, ss/msh (Reuters, Reuters)
"Professional web geek. Alcohol fan. Devoted zombie trailblazer. Certified social media lover. Amateur creator. Friendly food nerd."