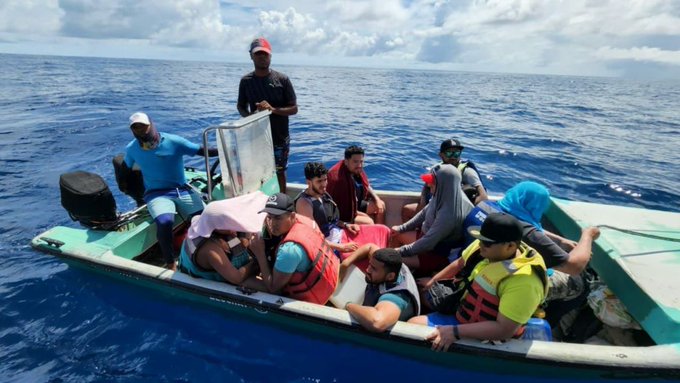 The procedures were carried out during the week and announced this Saturday.
Two boats occupied by 31 migrants, mostly Venezuelans and five Nicaraguan crew members, were detained by Nicaraguan marines as they moved through the Caribbean without documents, officials said Saturday.
The Nicaraguan military intercepted the boats in two operations northeast of Corn Island, located 60 kilometers east of Nicaragua's Caribbean coast, on Wednesday and Thursday, the navy said.
According to the military report, the two boats were occupied by 31 migrants, 29 of whom were Venezuelan, 1 Ecuadorian and 1 Peruvian.
According to official information, eight minors were traveling in two groups.
In its briefing note, the Nicaraguan military identified only 44-year-old Nicaraguan Adan Sergio Sjogren Jacoby; Alberto Abraham Reyes, 41 years old; Ariel Kenley Willington Garth, 32; Henry Clement Gonzalez; 27 years old; and Canaan Denzel Downs Carthrell, 24.
"The migrants were given primary medical care and then handed over to crew members and authorities associated with the boats," the Nicaraguan Armed Forces pointed out.
Need informationInstantly on your cell phone. Join the Diario Primicia group on WhatsApp through the following link:https://chat.whatsapp.com/Fr9gVHN4A436nOIw6sepgk
We are also @DiarioPrimicia on Telegram, join us here:https://t.me/diarioprimicia
"Wannabe web geek. Alcohol expert. Certified introvert. Zombie evangelist. Twitter trailblazer. Communicator. Incurable tv scholar."